TOOL EXTENDS SERVICE LIFE OF HIGH-QUALITY SPARK PLUGS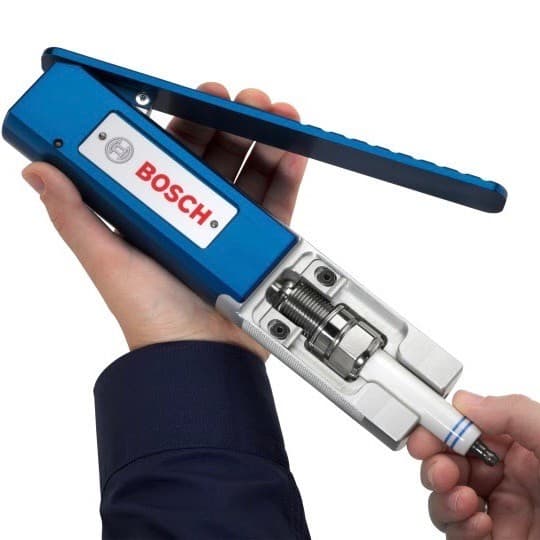 With its M18 iridium spark plugs, Bosch has established a new generation of industrial spark plugs meeting the increased thermal and mechanical demands of highly charged stationary engines while offering a longer service life.
Thanks to improved design, high-quality materials and modern manufacturing technology and, the M18 spark plugs are very robust. Iridium, an extremely erosion-resistant precious metal, is used in the electrodes, and a new coating method and a laser-welding method further improve their durability.
Nevertheless, the electrode gap increases as a result of wear during operation, which can result in misfires. For cost reasons, attempts are often made to re-gap the electrode spacing using the most basic tools. But without the appropriate tools, the ground electrode can be bent too far or even broken off. Also, the electrode spacing is easily set incorrectly or the plug damaged which can lead to longer periods required for servicing or unplanned downtimes.
With a new re-gapping tool, the adjustment principle for electrode spacing used in production has been applied to a handy service tool, making it possible for users to exactly readjust the electrode spacing within only a few seconds. Thanks to integrated force limitation, the tool prevents either bending the ground electrode too far out or deforming the centre electrode by applying too much pressure on the ground electrode.
Bosch Australia
03 9541 5555
www.bosch.com.au