TONSLEY MANUFACTURING HUB BUILDS UP COMMUNITY
15-02-2018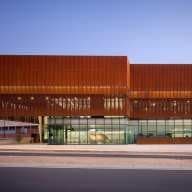 An innovation hub to help Australian companies make the shift from traditional manufacturing to more advanced, value-added products has opened in Adelaide.
The concept was first floated in 2016, and since then development has been ongoing, transforming a former car manufacturing plant into a hub for local manufacturers. 
The Tonsley Innovation Hub in southern suburbs of Adelaide, South Australia dominated the Australian Institute of Architects' 2016 South Australian Architecture Awards, collecting seven awards across education, heritage, commercial, sustainability and urban design.
Now, the hub's launch in early February has signaled SA's intent to accelerate the state and national adoption of 'industry 4.0' technology among hi-tech and manufacturing businesses, as well as foster research and development. 
The term 'industry 4.0' refers to the growing trend of automation and the use of the Internet of Things, Cloud computing and cyber-physical systems in advanced manufacturing.
Professor John Spoehr, Director of the Australian Industrial Transformation Institute at Flinders University, said the adoption of new age digital technology was crucial due to the highly competitive environment of manufacturing internationally.
"Without the automotive industries we need new sectors and new industries that will be at the forefront in the uptake of new technologies," he said.
Professor Spoehr said the hub would enable closer collaboration between educational organisations and businesses to better understand digital technology in new age manufacturing and its impact on the performance of companies and workers.
Situated on the ground floor of the Flinders University building at Tonsley, one of the key facilities at the Tonsley Manufacturing Innovation hub is the modular Future Factory. Made in Germany by technology giant Festo and funded by the South Australian Government, it showcases the latest automation, sensor, monitoring, robotic and cobotic technologies and is one of only a few Future Factories in the Southern Hemisphere.
Professor Spoehr said the platform was modularised and could be reconfigured in a variety of ways.
"It's a great education and training tool for students and workers who are wanting to become familiar with how these new systems operate, but it's (also) a great way for companies to think about how to adopt some of these technologies in their own workplace," he said.
South Australian Manufacturing and Innovation Minister Kyam Maher said it was important to ensure the advanced manufacturing workforce and companies had the ability to compete globally in niche markets as the economy transitioned.
"Industry 4.0 is the next technological wave that will create opportunities for South Australia's advanced manufacturers to diversify into growth sectors such as defence, food and health," he said.
"The [Tonsley] Hub will further cement Tonsley's reputation as a global centre of excellence for industry and research collaboration, with modern facilities to train people for the jobs of the future."