Tommy Campers reaps the reward of its down-to-earth formula for success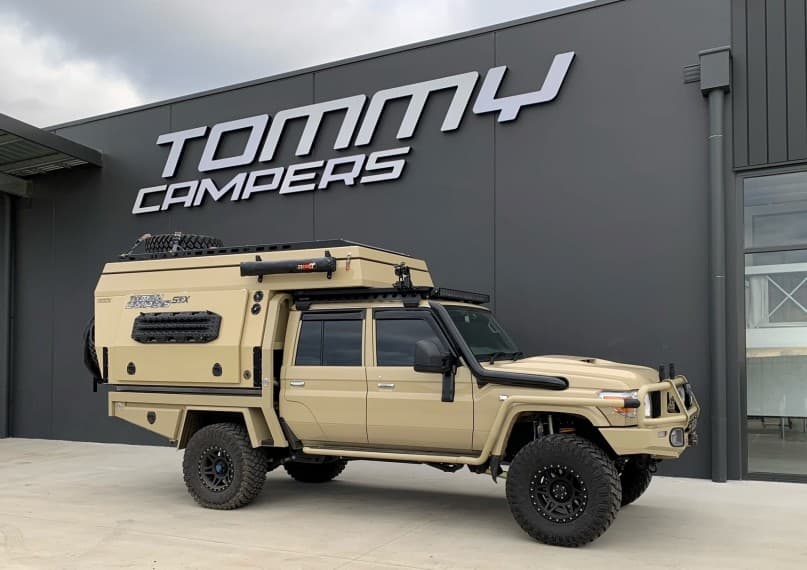 An Australian family-owned manufacturer of slide-on campers is celebrating the success of its formula of rugged high quality and 100 per cent product backing with the opening of its new production plant in Victoria to serve its continuously expanding business.
Tommy Campers – based in Ballarat– has grown from humble beginnings with limited production in 2015, to year-on-year growth, based extensively on word-of-mouth satisfaction from customers who have put their personalised campers through their paces on the roughest tracks throughout Australia.
"Since day one, our goal has remained the same: to build the best quality campers that are the fastest and easiest to slide-on to owners' diverse vehicles. We engineer to suit customers' needs, not try to squeeze their needs into a standard format. Our winning formula has stood the test of time to the point where we have now invested in a totally new plant where we can do even more to advance our in-house production, customisation and quality control facilities," said company Operations Manager Dan.
Typical of the attention to detail, comfort and cost is the use of the Australian made and globally recommended Duoetto 12V/240V 10-litre water heater, which safely and compactly delivers plenty of hot water whether using mains power or battery input great distances from anywhere on the coast or deep in the Outback.
Tommy Campers (www.tommycampers.com.au) feature:
unrivalled strength, with an industry-leading 3mm thick aluminium body
spacious interior, with a vertically fitting roof engineered to give 38 per cent more interior space for a huge bedding area
effortless setup
multiple configurations with practical options, delivered as a bare DIY shell, a fully fitted product or anything in between
fitting to any ute, including dual-cab, space cab or single cab.
The Aus J water heaters fitted to Tommy Campers to ensure creature comfort are used worldwide by DIY and OEM specifiers and proven in service in applications ranging from tropical Africa and Asia through to the extremes of Europe, the USA, Canada, Mexico, and South America.
"Having a hot water option is a must have for campers now. The Covid pandemic has greatly accelerated the discovery of our own country's wonderful backyard for many people – with greater numbers of families involved in domestic adventure and leisure travel – and we see this trend continuing and increasing in the future," Dan said.
"Electric is an excellent solution for our campers.  It is simple, safe and easily integrated with existing systems, and removes the challenges around gas supply and exhaust fumes that come with gas set-ups."
Aus J Hot Water Solutions Managing Director Jay King said the quality and practicality built into Tommy Campers has impressed him since he first started dealing with the company several years ago.
"We love their service ethic, and their customer-first attitude. They are right up there with the best OEMs we deal with globally. Dan is right at the head of the field for making sure it works and continues to work so people can have confidence in them."
The tough, Australian-designed compact and durable Duoetto MK2 water heater (www.ausj.com.au) offers selectable temperatures between 30-75 deg C (86-158F) on 240V so people can shower, wash, clean and enjoy abundant hot water whether mains power is available or not and without them having to store and carry additional fossil fuels on land or on the water.
For further information about Tommy Campers, please call mob 0490 676 742 or email dan@tommycampers.com.au.
For further information about Duoetto water heaters, please call +61 - 419 993 042 or email sales@ausj.com.au.