Today's machine tools must be fast, flexible and accurate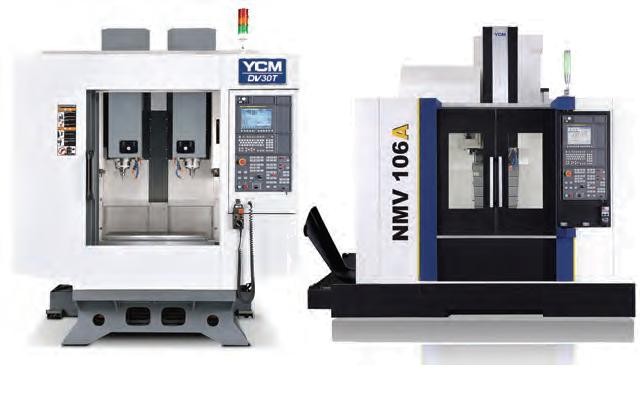 At the Taipei International Machine Tools Show (TIMTOS 2013) in Taiwan, YCM launched a range of machine tools that had the grapevine buzzing.
The company unveiled new vertical and horizontal axis machining centres and double-column machining centres with full 5-axis heads, and took the wraps off its new Y-axis lathes.
Now in the top tier of machine tool designers and builders, the Taiwanese company has steadily moved-up through the many levels of the machine tool supply market.
It was founded in 1954 as Yeong Chin Iron Works. Today, the company is a major player, with a factory of almost 160,000 sqm, a highly-skilled workforce of more than 800, and accreditation to ISO 9001 and ISO 14001.
It has its own foundry, with a QA regime that ensures only the highestquality castings are provided to the machine-assembly hall. It uses the Meehanite process, which ensures castiron with uniform soundness, consistent physical and mechanical properties, and dependable performance in service.
Mainline products include vertical machining centres (VMCs), double column VMCs, horizontal machining centres, and CNC lathes.
There are more than 70 models and versions to meet a large variety of industry needs, and the YCM brand has a global reputation for delivering consistent precision, outstanding reliability, and exceptional rigidity.
Further, most of the company's large range of machine tools are offered with BBT spindles as standard – not as an expensive "extra."
YCM's design provides dual surface contact and exceptional cutting rigidity, delivering high accuracy.
Taking advantage of their sturdy and rigid construction, all the machines can be fitted with the advanced MXP Fanuc control that boasts a user-friendly interface, along with innovative features designed to foster increased efficiency and productivity.
Engineers around the globe are now familiar with the world-class machine tools designed and built by YCM.
In Australia, the company is exclusively represented by 600 Machine Tools, a member of the UK-based 600 Group.
A small but very knowledgeable team has ensured that the YCM brand is as well-known among Australia's workshop managers as it is in every industrial country around the world.
The managing director in Australia of 600 Machine Tools, Cliff Purser, said: "I have visited Taiwan and toured the factory of this almost 60-year old company, and witnessed the remarkable attention to detail of the tradesmen during the building of each machine tool. I was not in the least surprised to discover that YCM was the first Taiwanese manufacturer of machine tools to be accredited to the prestigious ISO9000 world standard for quality assurance."
Delighted customers in Australia
One of Australia's leading manufacturers of transmission equipment recently invested in a YCM GT200A, a CNC lathe designed to ensure consistent machining performance by eliminating structural distortion and deformation under heavy-machining conditions.
The company already has a number of large machines for the many bigger components that it produces – splineshafts, drives, and gears – and the new lathe has proved to be ideal for highproductivity turning, with exceptional speed, power, and capacity.
At a Sydney company, founded almost 50 years ago, more than 3,000 components are manufactured for vehicle conversion and refurbishment markets – in Australia and further afield. It now has a 12-tonne YCM machining centre with a Fanuc 18i-MB control – complemented by Manual Guide i – enabling the workshop to load the machine for a "lights out" operation during the night.
While the majority of Australian companies in the manufacturing and engineering industries have struggled during 2-3 years of economic turbulence, a small firm in NSW has bucked the trend and actually expanded and diversified. It now has a CNC vertical machining centre from YCM with a spindle-speed of 10,000 rpm and throughspindle coolant delivery.
A company in northern Queensland is relied on by two major industries – mining and sugar-cane processing. Among the machines acquired from 600 Machine Tools is the largest in a YCM series of four VMCs, and is fitted with the unique Z-axis guide-bar counterweight that allows for rapid 'peck' drilling and Z-axis rapid movement with remarkable smoothness.
As one of the top 100 machine tool manufacturers in the world, YCM ensures that visitors to such international trade fairs as TIMTOS in Taiwan, JIMTOF in Japan, and EMO in Germany have the opportunity to view and test its latest machines.
The Taiwan company has ensured that operators of each new machine receive training conducted by YCM-trained specialists, collectively using more than 30 languages.
After commissioning, unstinting support is provided anywhere in Australia by 600 Machine Tools.
600 Machine Tools
Ph: 02 9674 4738