Titanium welding helmets for extreme conditions
31-08-2010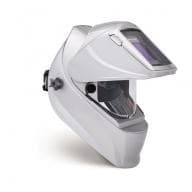 WIA (Welding Industries of Australia), one of Australia's leading welding supply companies, has released the Miller Titanium Series of welding helmets.
The Titanium Series is designed to provide the protection and durability professional welders demand when working in heavy use, high-heat industrial applications.
It is ideal for fabrication, manufacturing and construction environments.
The combination of a silver shell to reflect heat and an innovative aluminium heat shield on the lens to assist in keeping the operator cooler, contribute to reduced heat stress. The aluminium heat shield also protects and extends the working life of the lens.
The Titanium range includes the 9400, a standard shell with external grind button and the 9400i, a lift front design with integrated, high impact grind shield for maximum protection and versatility.
The integrated grind shield of the 9400i provides an impressive 180˚ field of view while grinding, and complies with Australian High Impact Standards.
By being integrated, the grind shield improves safety and productivity by allowing the welder to switch between welding and grinding without removing the helmet.
On the 9400 model, users can switch between the weld and grind modes at the push of a button.
As well as the innovative aluminium heat shield, both models in the Titanium Series range feature the InfoTrack arc timer, which allows the user to track arc time while welding, and includes a digital clock display with the ability to set an alarm or timer.
Tested to withstand extreme use, the welding helmets also feature a new lightweight headgear designed with the user's comfort in mind, with multiple adjustability settings to achieve the best fit for the user.
The Titanium Series range also features intuitive digital controls with large displays that allow the welder to adjust modes, shade levels, delay and sensitivity with ease.
Other features include Auto-On/Auto-Off, excellent low amperage TIG performance, lithium battery power with solar assist for exceptionally long life, and a magnifying lens holder. Magnifying lenses are available in 1.5, 2.0 and 2.5 magnification.
Complying with Australian Standards AS/NZS 1337.1 and AS/NZS 1338.1, the Titanium Series range come with a class-leading 3-year warranty and bonus accessories including five outside cover lenses, two inside cover lenses and a helmet bag.
Welding Industries of Australia
Ph: 1300 300 884