THIS TINY WHEEL LIFTS BIG LOADS
23-03-2015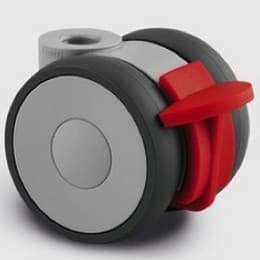 The new Tente Linea Light Series is a castor that offers a load capacity of 100kg, with a low overall height of 50mm. 
It is the only highest dynamic load capacity for a double wheel synthetic castor.
The load capacity is tested according to EN12530 institutional castors. 
The castor is also available with Smart Brake Lever, so when the brake lever is engaged, this part is in contact with the ground. 
This significantly reduces the risk of damaging the brake lever.
A range of fittings is also available to suit the "blind hole."
The fittings are available in square plate, threaded stem and push in circlip type.
Other colours available for large projects.
Contact Tente for more information or to view a sample.
Tente Castors & Wheels
Ph: 1300 836 831