| Article appears in February 2020 Issue
TINY BARCODE READER AIDS AUTOMATION INTEGRATION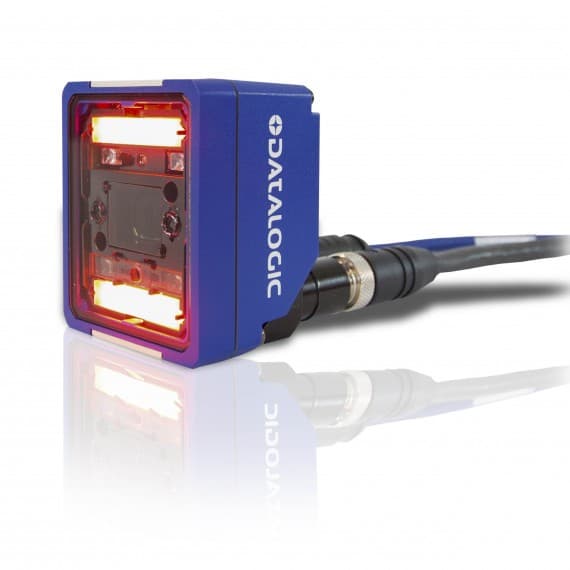 New from Datalogic, the Matrix 220 is an ultracompact image-based barcode reader designed for maximum performance and flexibility in high-speed and direct part marking applications.
Measuring just 73 x 47 x 38mm and weighing only 173g the unit features rotating connectors for easy installation and integration into tight spaces encountered in industrial automation and high-speed machinery applications.
The extreme industrial grade Matrix 220 can read barcodes in the widest variety of applications, including difficult lighting, at high speeds and in a large range of temperatures, making it an ideal industrial scanner for automotive, packaging, food and beverage, electrical, document handling, manufacturing and a wide range of Industry 4.0 and automation-ready industries.
"The new Matrix 220 imager has been designed for industries needing a robust and reliable scanner that can support their digitalisation and automation growth," says Morena Corradini, Identification Product Marketing Manager, Datalogic.
The Matrix 220 imager features IP67 and IP65 industrial grade ratings and can safely operate in temperatures between -10 and +50°C.
The imager's 1.2Mpixel high-resolution sensor and a new multicore image-processing platform offer outstanding performance and the ability to read up to 2mil code resolution.
The Matrix 220 is the first stationary industrial scanner on the market supporting OPC UA (Open Platform Communications Unified Architecture) protocol for Industry 4.0 communication and Digimarc Barcode technology for added value decoding applications.
Matrix 220 is also the first reader of its market segment to embed high dynamic range (HDR) imaging. This improves image quality and contrast for higher code readability in applications with lower exposure time and faster line speeds.
"Integrated HDR imaging provides outstanding efficiency benefits in manufacturing, food and beverage, automotive and industrial applications featuring a production line or conveyor. Parts can be accurately scanned as they move past at speeds, even in low lighting," says Corradini.
The Matrix 220 offers in a single model polarised and diffused light options resulting in optimal illumination on any type of surface. The electronic focus control allows easy remote job changing during assembly line reconfiguration with extreme reading flexibility.
The imager's ease of use is enhanced by green and red spotlights, the X-Press button and an intuitive human-machine interface, and the configuration software has been improved with an automatic setup mode for quick and easy code reading.
"Another major benefit of the new Matrix 220 imager is that it's simple to set up, easy to use, and can be easily reconfigured as scanning needs evolve in the future," says Corradini.
To reduce the number of models, the new Matrix 220 imager comes with a range of front cover accessories – including ESD protection – to enhance its flexibility and simplify stock management.
The imager also offers cost-effective communication and connectivity with Power over Ethernet, Profinet/IO and Ethernet/IP options.
Datalogic
03 9558 9299
www.datalogic.com