Published 11-08-2020
| Article appears in June 2020 Issue
TIMELY AUTOMATION TAKES TIME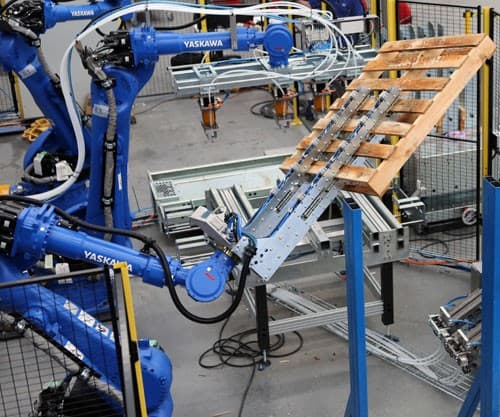 There's an interesting theme developing currently within the Automation Systems Integrator (ASI) market; clients new and old are asking for delivery of automation systems in unrealistic time frames.
So why now?
The average timeframe from first contact to production is somewhere between three to 12 months depending on the solution required.
These actual delivery times are not in line with what most clients' expectations are. However, they are realistic delivery schedules to work with.
I sometimes get the feeling that because a client is buying high tech solutions using highly flexible robotics and AGVs etc that it's now somehow simpler to put a solution together!
This is not the case at all.
More times than I care to remember over the past 30-odd years – especially in the last decade of supplying turnkey automation systems – the client often balks at the timeframe projected from the start to finish of a project.
Maybe it's because the clients are trying to make up for lost time, especially now when looking forward to a post-COVID world.
I can understand why they feel that it's way too long, and that they have a pent-up desire to get on with it. They may have been contemplating doing something for quite a while – in some cases, for years – but simply end up doing nothing.
Robotic Automation is seeing exactly this unfolding right now. It's ironic that as I was writing this article, I received a call from a potential client from several years ago who wanted to resurrect a proposal for a complex system. They asked when I'd be able to deliver it.
Maybe what's driving this growing theme are the significant unwelcome changes recently imposed on businesses such as production volumes, product diversities, labor shortages, quality, increasing staff safety considerations, supply chain issues and/or COVID-19.
Perhaps they've decided that now is the time to act and want a project in and working in an unrealistic timeframe.
The sad part? Because of this, perception versus actual delivery time expectations are not lining up, and many that have delayed in the past for whatever reason are now finding it even harder to cope with increasing demand – especially since the advent of COVID-19.
The problem is the whole process really does take time regardless of whether you want to avoid future issues. The road to the right solution requires a considered and consultative approach.
By way of some sort of explanation I've listed below the 10 main steps that are required post-first contact. This is by no means an exhaustive list, but it's enough for anybody to understand that these are real steps that need to be taken seriously.
        1. Evaluation of the client's needs, including a wish list and any future proofing. This has been hampered by COVID, but we've found online virtual mediums can achieve a surprisingly good result.
        2. Provide a basic budget proposal to enable an ROI to be worked up internally with the client.
        3. Client selects their preferred supplier and enters closer negotiations and discussions re: the project details. Many versions are usually worked through to get the right solution for the client.
        4. Final proposal issued, reviewed and digested by the client. Last minute changes and amendments.
        5. Negotiations regarding terms and conditions, especially if the client is multinational, as the people involved are often overseas.
        6. Awarding of the contract by client, issuing of purchase order, invoicing, receipt of deposit etc. This can take months in some cases.
        7. Now the project begins in earnest and a project manager is appointed.
        8. The Functional Specification (FS) is immediately embarked on and usually takes about three to four weeks. Note: this is essential as a last chance to catch anything that may have been overlooked thus far.
        9. Ordering long lead time equipment, particularly anything required from overseas.
        10. Design, manufacture, assembly, testing, delivery to site, FAT, installation and final testing, production-ready trials, training, full production, documentation and handover.
Items 1-6 can take anywhere from two months to several depending mainly on the solution, but also on the client's ability to respond to questions and any holidays, year-end, staff changes and other interruptions. Note: we can say an average would be three to four months at best.
Items 7-10 can be anything from three months for a simple in-stock solution with limited variations to nine months or more, depending on the size, complexity and client.
The averages for 1-10, best case three to five months for a simple in-stock solution, and 9-12 months for a larger, purpose-built complex solution.
Note: there's an opportunity to use consultants at some point but in our experience, this can actually lengthen the total timeframe, cost more, and often confuses the client.
Best to keep these basic timeframes in mind when considering automation for your facility.