TIME-SAVING SPLIT TECHNOLOGIES SELECTED AS AWARDS FINALIST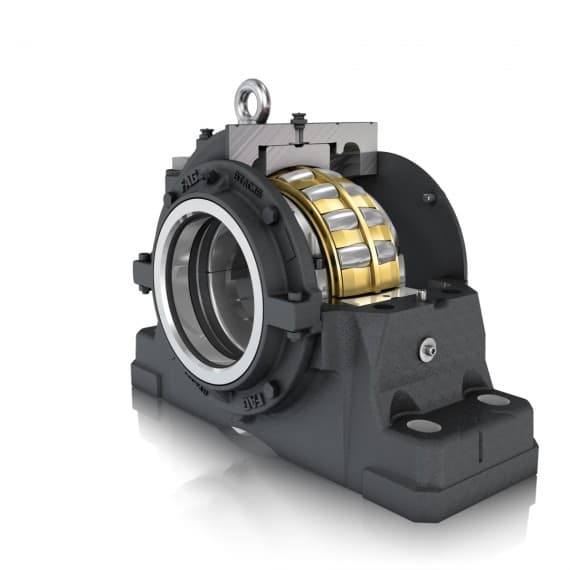 Schaeffler's split technologies, including bearings, housings and seals, have been selected as a finalist in the Safety category of the national Bulk Handling Awards 2019.
A major benefit of the new families of split bearings, labyrinth seals and plummer blocks being introduced to Australia and New Zealand is the curtailing of downtime during maintenance. This is particularly critical for return on investment in machinery for high-volume, heavy-duty and automation applications, because when a company's major machines aren't running, it's not getting any return from its expensive plant.
"Schaeffler Australia is honoured to be a finalist in the competitive category of safety," Schaeffler Australia Managing Director Andre Kluge says. "Safety is one of our core values, and it's built into all of our products. Not only can our leading trio of split technologies make a huge range of bulk handling tasks safer, but they can also save time and cost, providing a triple benefit to our valued customers."
These technologies, which can be used individually or in combination with each other, are typically easier, faster and less hazardous to install than solid one-piece components when the time comes to repair or overhaul the components which are integral to all rotating machinery.
Plummer blocks, for example, are vital to support the rotating shafts used in materials handling and process technology, providing a stable precision housing for the equally important bearings and seals that underpin reliability and speed for processing applications.
Maintenance of these essential technologies can often result in costly production downtime when equipment is offline. The cost of such downtime is increasing further as machinery automation and speeds increase.
Delays can be magnified by the complexity of replacing standard spherical roller bearings in such applications, which is a complicated procedure that involves removing gears or couplings, taking off drives and gearboxes, cutting off the old bearing and, frequently, stripping the line shafting.
Converting to split spherical roller bearings provides an alternative that can significantly reduce maintenance downtime. Split spherical roller bearings include inner ring, outer ring and cage assemblies that are split into halves and held together by bolts. These bearings typically offer high load-carrying capability and compensate for any dynamic misalignment.
The internal designs of the split bearings meet the same stringent requirements as traditional solid bearings, ensuring the same ruggedness and reliability. As a result, users of split bearings get all the operational benefits of standard spherical roller bearings, without the maintenance drawbacks, when it's time to remove and replace them.
Split spherical roller bearings are particularly useful when several bearings are used to support a complex driveshaft, or when the bearing is hard to access. Furthermore, no longer having to disassemble and remove heavy components may eliminate the need for cranes and other expensive lifting equipment. These devices not only add cost and complexity, but also increase the risk of accidents.
Similar benefits accrue with the use of split seals, and also with split plummer blocks as an alternative to solid one-piece plummer blocks, which are typically heavy items of machinery that not only cost time, effort and expensive lifting technologies to remove and reposition, but also expose the maintenance operation to greater hazard.
Schaeffler Australia
02 8977 1000
www.schaeffler.com.au