Tight squeeze? No problem for Airskate
14-02-2012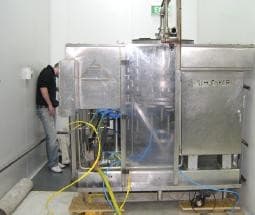 If you're looking to move heavy machinery and space and time is tight, look no further than the revolutionary Airskate from the Sippel Group.
A Sydney company recently used the Sippel Airskate to successfully relocate a 2.5 tonne rather fragile bottle capper/labeler at a very tight factory site.
It was moved from inside the dockway through three production areas and three narrow access doorways into a very limited location (pictured) – all with friction coated floor surfaces.
The move was accomplished using Sippel's exclusive thin food-quality belting pieces to overcome the friction surface.
The move for the company that packages Hibiscus flowers was not only an unusual one, but it was performed at short notice.
The Hibiscus flowers, which can be eaten, are placed in a champagne glass and slightly opened for appearance.
Not having an opportunity to pre-inspect the site or job, the team had to improvise on arrival.
Four AS18-HP Hovair Airskates were set into twin Airbeams to support the whole machine on its small 50mm diameter machine legs.
The semi-friction concrete floor was negotiated utilising the plant's limited compressed air supply, using thin slip-sheet belting strips to help reduce air usage.
The job was completed in a short time, squeezing through three doorways with only millimetres to spare into a very constricted final position.
The Sippel Group has been safely moving machines and heavy objects with 100 per cent success for more than 35 years, with no personal injury or damage to equipment, floors or buildings.
Sippel Group
Ph: 02 9567 4889