THREE GENERATIONS OF AN AUSTRALIAN FAMILY ARE ON THEIR METTLE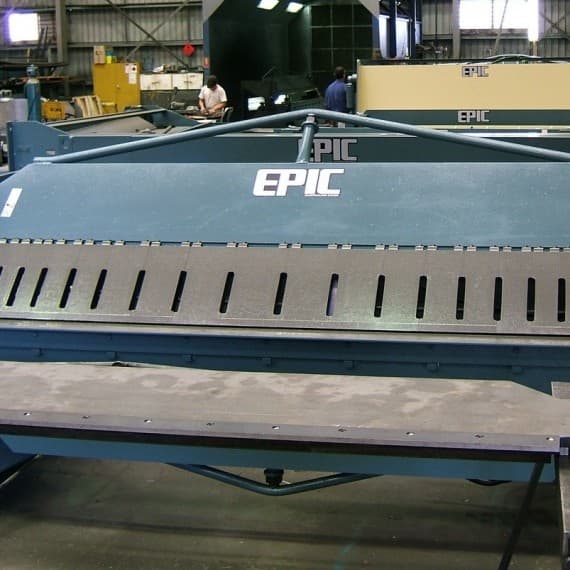 The Azzopardi family of NSW has been designing and manufacturing sheetmetal and plateworking machines for the past four decades.
The company, founded by the late Frank Azzopardi and son Michael, and known today as Epic Industries, began in 1972 at Smithfield, south-west of Sydney
The company began designing and manufacturing machines for machine suppliers and machine end users.
Current managing director, Mike Azzopardi, soon had enquiries from all over Australia.
By 1996, the company had a purpose-built factory at Picton, south-west of Sydney and, in addition to meeting the requirements of customers all over Australia, machines were being exported to the US, Africa, India, South-East Asia, and Saudi Arabia.
"When we decided to go into manufacturing, Epic planned to make machines to suit Australian workshops, knowing that they would be worked hard for a long time, " said Mr Azzopardi.
Epic builds the complete machine. The company does not buy-in sub-assemblies or send work out to sub-contractors. In this way, it has control of the quality of the entire machine.
Grandson of the founder, Mark Azzopardi, is now acquiring the skills needed to build machines – fabrication, machining, hydraulics, engineering, electrics, and electronics.
Thus, a third generation of the same family will soon be involved in a business that spans two millennia.
In workshops throughout Australia, it is commonplace to see the bending and shearing of sheetmetal by an Epic pan brake, press-brake, or guillotine.
These machines are available with capacity ranging from 1250mm to 4000mm in length. Guillotines are available up to a capacity of 13mm.
"Epic's long experience and technical expertise in manufacturing press brakes, pan brakes, folders, and guillotines, has enabled it to develop affordable easy-to-operate machines, offering accuracy and efficiency that is superior to most others," Mike Azzopardi said.
Standard hydraulic pan brakes and folders, from 1250mm up to 4000mm long, are available with a capacity from 2mm sheet metal up to 6.5 mm mild steel. Press brakes range from 1850mm up to 4000mm long, and from 50 ton up to 150 ton.
Epic's popular guillotines range from foot-operated 1020mm long up to 4000mm long, to fully hydraulic variable rake with capacity of 1.2 mm up to 13mm steel.
Controllers are available to suit all requirements, and guarding from category 1 up to category 4 Australian standards.
Mr Azzopardi said: "All our machines are proudly built in Australia."
He noted that Epic once had five rival Australian manufacturers, but all had disappeared under a flood of budget-priced machines from China and other countries with low labour costs.
"However, while these imports have made inroads into the Australian market, many of our quality-conscious customers have noted that 'cheaper' is not necessarily 'better,' and have supported Epic," he said.
"Understandably, many workshop managers have experimented with imported machines but have run into problems resulting in downtime.
"Talk to an Australian supplying Australian-made products."
The managing director of 600 Machine Tools in Australia, Cliff Purser, said: "Epic is a very innovative company. It has designed many features into its machines, improving the function, and some have now been adopted by other manufacturers.
"Over the past 40-plus years, it has built a portfolio of loyal customers who recognise the quality and reliability of their machines.
"After accuracy and repeatability, long-life is a major consideration when expending capital budget on new machines. Epic machines have these qualities built-in – in Picton, not in a remote town near the Mongolian border!"
"We are happy to not only supply Epic press-brakes and guillotines, but to support each machine with our network of engineers – including specialists in harnessing the benefits of CNC controls.
'We are part of the UK-based 600 Group and, as our name suggests, we are specialists in world-class machine tools.
"In addition to Epic, our range includes Colchester and Harrison lathes and machining centres, and the hi-tech Electrox laser-marking systems that are heading the revolution in permanent marking of products.
"Also, we would be happy to surprise you with details of the time-savings provided by the remarkable Gripfast workholding system from Pratt Burnerd that combines a chuck, a collet chuck, and a mandrel chuck in a single unit.
"Workshop managers and others are invited to discuss their specific needs with our knowledgeable and experienced specialists in Australia's major cities." 
600 Machine Tools
Ph: 02 9674 4738