THREE CLASSES OF TAILORED BLASTING CHAMBERS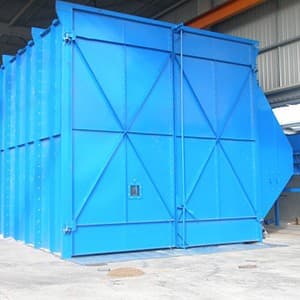 Pictured: A Protoblast Maxi-Build blasting chamber.
At the heart of any surface preparation setup is the blast chamber; crucial to every task, and built to last through countless demanding jobs. 
As a supplier of quality construction, Protoblast is now offering three discrete families of sandblasting chamber, to meet the varying demands of businesses around Australia. 
 The Maxi-Build chamber is a large, heavy-duty chamber that can handle very large blast sections and high volumes of work.
The Mega-Build chamber is the workhorse for medium and light work, and is suitable for long lengths of blast sections in large volumes.
The Protoblast Portable chamber is a fully self-contained portable unit, designed for high volumes of small items or occasional blasting of larger sections.
All three types of chambers are built to order and built to last, using the strongest materials and incorporating a range of productivity enhancing features.
Protoblast blast chambers are renowned for their durability, and some of the original systems installed over 40 years ago are still in full operation.
For quality construction, and more information on individual options, visit Protoblast's website. 
Protoblast
www.protoblast.com.au