THOUSANDS OF INTERSTATE WORKERS WILL BE NEEDED FOR TASMANIA'S CONSTRUCTION BOOM
29-02-2016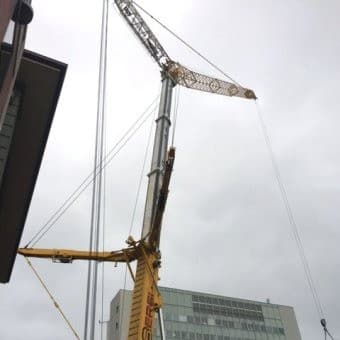 Tasmania's construction boom will call for other interstate workers, the Master Builders Association says.
Several large cranes have lined the Hobart skyline as the number of commercial and governmental project are underway.
Building and Construction Minister Adam Brooks said this increase is evidence of a new sense of confidence that the State Government helped create.
"We went to the people with a very clear plan that focused on jobs and the economy and the biggest driver of the economy and the biggest driver of jobs is high confidence," he said.
"What we're seeing, with so many cranes across the Hobart CBD and building growth across the state, is a reflection of that confidence."
Labor spokesman Scott Bacon acknowledged there was a boom but said it was not due to the Government.
"What we want to see from the Government is more work from them and less trying to claim credit for other people's hard work," he said.
Either way, this influx in construction has brought with it it's own share of labour shortage issues.
Michael Kirschbaum from the Master Builders Association has predicted a major labour shortage for some time.
He said that an expected drop-off in home building had not come to fruition, tightening the market further.
"As the course of this year unfolds we will see more interstate workers having to come and fill those gaps that the local labour can't do," he said.
Although Tasmania's construction workforce is 17,000 strong, the demand is expected to reach 21,000.
"There's no doubt in my mind, that with all the projects converging, that the amount of additional people we will need will be in the thousands," Mr Kirschbaum said.