"THIRSTY' CONCRETE DRINKS WATER
30-09-2015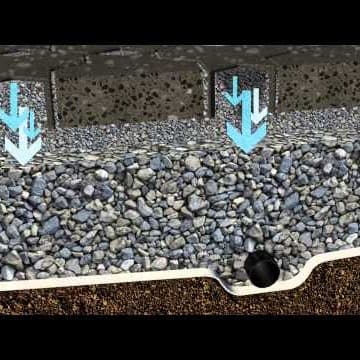 The issue of flash flooding is one that has devastated many parts of the world and has caused massive destruction of infrastructure.
The prevention of water accumulation and the overflow of draining systems is an issue in need of a solution.
Tarmac in the UK has created Topmix Permeable, a type of porous concrete that can 'drink' up to 4000 litres of water in a minute, with an average of 600 litres per metre squared.
The new concrete works by having a porous layer on the surface, which is made up of large pebbles that water, can drain through.
This is then followed by an 'attenuation layer' which leads to a draining system connected with the cities groundwater reservoirs, making sure that no water is being wasted, but rather treated.
While permeable concrete has been around for a while, this is the first time it has been used for normal concrete that can sustain heavy traffic.  
 This new concrete can be used with already existing concrete and can install it so the runoff is directed to the Topmix Permeable.
"During periods of rising temperatures and intense rainfall, water stored within the system evaporates creating a cooling effect reducing surface temperatures," Tarmac said in a press statement.
The concrete will only be able to installed in places where the temperature never reaches freezing point as if the Topmix is frozen, the whole system will be rendered useless.