A THIRD ALTERNATIVE TO LADDERS AND LIFTERS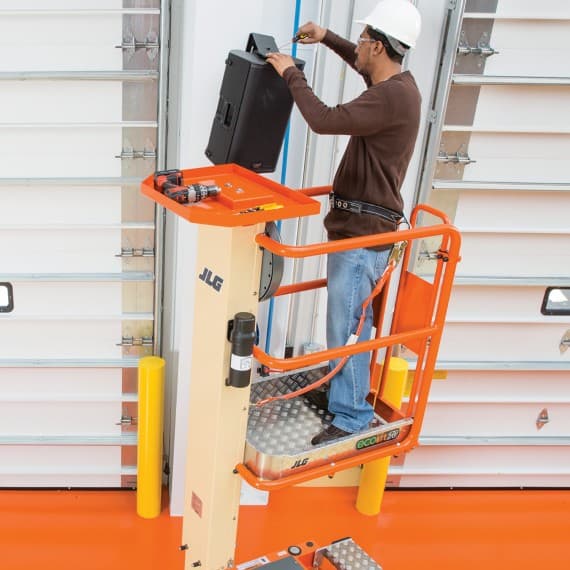 According to Safe Work Australia, an average of 29 Australians die as a result of workplace falls every year. Of these, half involve falls from heights of three metres or less, and 16 per cent involve falls from ladders (which is the highest cause of fall-related deaths).
One effective way to address this serious safety issue is to use low-level access equipment – compact, lightweight, simple, elevated powered platforms with working heights up to 4.5 m. With flat, non-slip trays and safety gates, these are proven as safe alternatives to ladders for internal applications like mechanical and electrical, heating and ventilation, refit, facilities maintenance, finishing trades and retail refits.
However, while they improve safety and efficiency, these units often present facilities managers and operators with a whole new set of requirements. Because they are generally electric or hydraulic, they require oil, batteries or access to mains power. These requirements cause unnecessary inconvenience, particularly when working indoors in places like schools, offices, shopping centres and hospitals.
However, there is another option. The EcoLift series from JLG combines the safety and efficiency of access lifts with the convenience and environmental friendliness of ladders. This is possible because, unlike anything else on the market, they feature a patented stored-power lift/lower system and therefore require no on-site power. All the power needed for their operation is generated by the operator through a simple-to-use hand lever.
This does away with power leads, battery maintenance is eliminated and 'dead battery' calls and replacements become a thing of the past. Plus, the absence of any hydraulic system translates into no hoses, no leak points and no refills which, in turn, results in lower environmental impact.
EcoLifts deliver clean, green operation, and operational time is maximised. They have low maintenance requirements, run at a low total operating cost and offer the potential for 24/7 use.
There are two models: the EcoLift 50 and the EcoLift 70. Both are manufactured from construction-grade materials, and include a rust-free aluminium diamond-tread platform with a rated capacity of 150kg, a tool tray and self-closing saloon gate, a robust steel mast and a sturdy base with non-marking automatically locking wheels. Both measure around 700mm in width, so fit through standard doorways, and feature castor wheels, which makes them easy to manoeuver around most workplaces.
The EcoLift 50 is the smaller of the two models. It weighs 180kg and has a maximum platform height of 1.5m, a working height of 3.5m and platform dimensions of 700 x 600mm. When not in operation, it has a stowed length of 980mm, a width of 700mm and a height of 1.55m.
The larger EcoLift 70 weighs 305kg and has a maximum height of 2.2m, a working height of 4.2m and platform dimensions of 850 x 650mm, and stowed dimensions of 1.28m length, 760mm width and 1.94m height.
EcoLifts are ideal for use in schools, hospitals, aged care facilities and hazardous environments. They are suitable for a range of applications including commercial and residential painting, facility maintenance, displays and decorating, HVAC maintenance, renovations and remodelling, plant maintenance and equipment installation.
The productivity and safety benefits that EcoLifts deliver make them an ideal low-level access option for facilities managers and operators alike, and their robust construction and simple operation make them ideal for the rental market.
Quiet, simple and safe to use, EcoLifts are the way of the future. They improve efficiency, deliver low total cost of operation and set the standard for eco-friendly access equipment.
JLG Industries (Australia)
131 554
www.jlg.com