Think big: these fans deliver huge energy savings
31-08-2010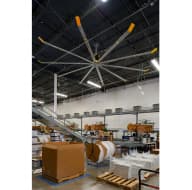 With rising temperatures and soaring energy costs, it is paramount to find an efficient cooling solution that delivers cost savings without compromising on productivity and employee comfort.
The obvious answer is a ceiling fan.
A ceiling fan is a ceiling fan, right? Well, no, not quite.
Big Ass Fans has reinvented the ceiling fan for large industrial, commercial and even residential spaces.
Big Ass offers the latest technology in air movement and thermal comfort solutions.
Their fans are custom-engineered for quiet operation and energy efficiency.
The Big Ass range provides cost-saving solutions to manufacturing plants, offices and warehouses.
With Big Ass Fans, companies can implement sustainable solutions that are not just environmentally friendly, but also cost effective, producing tangible savings all year round.
So how do they work?
It's simple. They are able to move larger volumes of air with aerodynamic aerofoils at low speed, thus minimising power consumption.
Big Ass Fans have as many as ten aerofoils that slowly revolve to create a large yet gentle air movement in all directions.
And because they are moving large volumes of air they can create a cooling effect over a large area.
High volume, low speed fans have a wide range of applications and are proven in reducing or eliminating the cost of cooling large spaces.
With nearly 40 engineers driving innovation and product development, Big Ass Fans owns the world's only research and development lab.
Based in the US, it was built specifically for testing large-diameter fans.
At the forefront of research and development in air movement and thermal comfort solutions, Big Ass Fans are now used in more than 80 countries worldwide.