THERMAL PARTNERSHIP TO EXPLOIT GROWTH OPPORTUNITIES
18-11-2016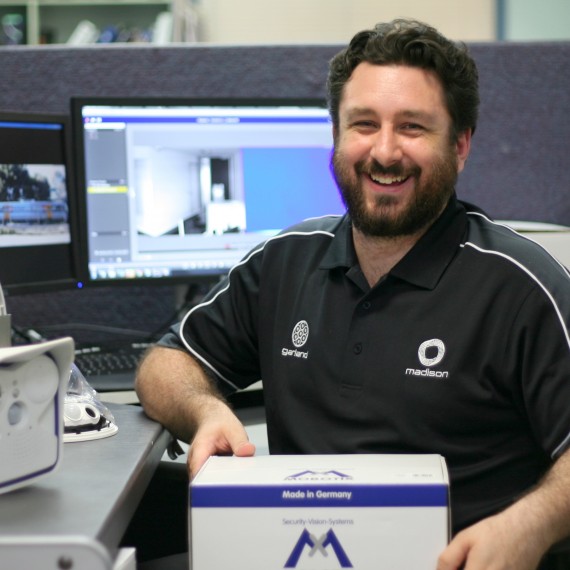 Adam Christofides is a dedicated thermal specialist
Global IP camera solutions manufacturer Mobotix has signed Madison Technologies as its preferred thermal partner for Australia. The two companies have worked together for several years, and the move recognises Madison's fresh approach to thermal technology and its significant in-house technical expertise.
"We are delighted that our work with and commitment to Mobotix has been acknowledged through this agreement, says David Redfern, MD of Madison Technologies. "Our customers will benefit greatly from the combination of Madison's innovative solutions and Mobotix cutting edge thermal technology."
As part of the partnership, Madison has appointed a dedicated thermal specialist, Adam Christofides, who will provide direct application assistance to customers, and work to establish a Mobotix thermal certified course to be delivered by Madison in the future.
"Thermal technology that has previously been cost-prohibitive, is now being explored seriously as a solution in more applications," says Redfern. "We are already working with customers wanting to apply the Mobotix thermal imaging technology across various verticals such as rail for monitoring wheel bearings, surveillance of people/track workers in tunnels and spotting illegal train riders."
"Thermal cameras are also becoming increasingly popular for perimeter detection, from large deployments such as solar farms and Defence bases, to the smaller applications in car yards. And of course, the mining, oil and gas sector will always have a need for temperature based monitoring, for spontaneous combustion or flare-ups in hazardous areas."
Graham Wheeler, Business Development Director of Mobotix Australia, added: "We see definite growth opportunities for thermal applications in Australia and are delighted to be working with Madison to explore these further."
Madison Technologies
1800 72 79 79
madisontech.com.au