Thermal imaging helps Sydney Harbour stay safe
31-08-2010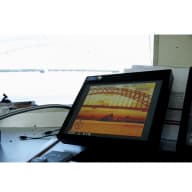 Harbour City Ferries is an organisation concerned with the safety of its staff, vessels and other users of Sydney Harbour.
Now its entire fleet is equipped with FLIR M320L thermal imaging cameras to further improve safety on the waters of Sydney.
Sydney's ferries have been servicing Sydney Harbour for more than 135 years. Harbour City Ferries operate about 175,000 services, transporting nearly 15 million people 1.3 million kilometers across the busy and scenically beautiful Sydney Harbour and the Parramatta River each year.
With all this activity, and Harbour City Ferries' strategic focus on safety as its first priority, it was decided to install thermal imaging cameras on board the entire fleet of 28 vessels, six of which are double-enders, so 34 FLIR M320L cameras were purchased in total.
In a crowded waterway such as Sydney Harbour there are countless opportunities for accidents to occur. Thankfully, with the installation of FLIR thermal imaging cameras on its fleet, Harbour City Ferries have made the harbour a safer place than in days gone by when only radar systems were fitted.
Installation of the FLIR M320L began in 2009 along with other Navaids equipment, supplied, installed and supported by Electrotech Australia.
"The FLIR thermal imaging cameras are navigational aids for the masters and crew of the ferries to assist during times of poor visibility, such as fog, rain, glare, low light and at night," said Stephen Penny, Project Manager of Electrotech.
The systems are also used for incident recording in conjunction with GPS, time stamp and speed overlay – all of which were installed by Electrotech.
"The M320L is a small, ultra-compact gimbal, able to rotate 360° continuously and can tilt plus or minus 90° vertically. This means that the master can look wherever he needs", said FLIR's Maritime Distribution Manager, Peter De Ieso.
"The M-Series can be easily mounted ball-up or ball-down. A menu setting allows the user to turn the direction of the image on the screen", explained Mr De Ieso. "The M-Series are extremely easy to integrate on board of any vessel, said Mr De Ieso. The images from the M-Series can be displayed on virtually any existing multifunction (i.e. chart plotter) display that accepts composite video.
"An M-Series camera provides two video outputs: one output is for the video signal from the thermal camera only; the other output is for video from either the thermal camera or the lowlight camera and is switchable from the Joystick Control Unit. The video from the M-Series camera can therefore be displayed on one or two video displays. Extra JCUs, to operate the M-Series cameras from different locations on the vessels, are an option and are simple to install."