THERMAL IMAGERS AND DMMS COME TOGETHER FOR MAINTENANCE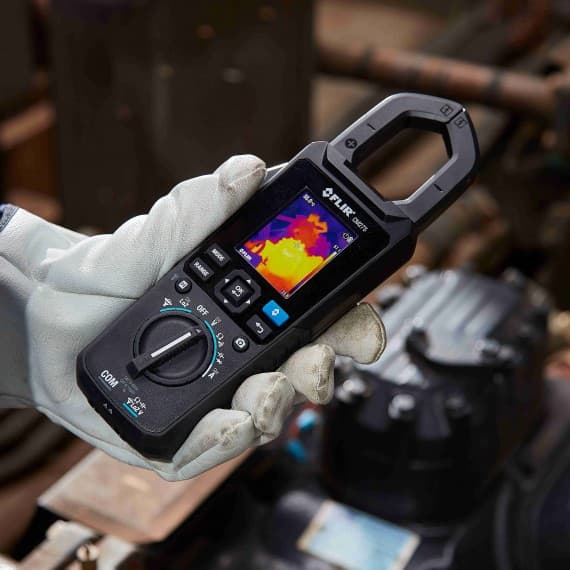 Available now from RS Components, the latest range of thermal imaging tools from FLIR includes an advanced thermal imaging camera along with a wide selection of new handheld multifunction tools.
The FLIR E53 is the new entry level product in the FLIR professional range of handheld cameras, which brings thermal imaging within reach of the large number of maintenance engineers and technicians that need the capability to identify hot spots before they lead to expensive repairs.
The easy-to-use E53 is ideal for spotting the build-up of heat in electrical and mechanical applications, as well as delivering the resolution needed to detect temperature changes that indicate a deficiency such as inadequate insulation or moisture intrusion.
The rugged unit is water resistant and can survive a 2-metre drop. It includes Wi-Fi connectivity; a 5Mpixel camera; a 4in colour touchscreen; and a 240x180 resolution detector that offers more than 43,000 points of temperature measurement and a temperature range up to +650°C.
Also new from RS are three FLIR handheld units that feature the company's infra-red guided measurement technology. The DM285 is an all-in-one industrial true-RMS digital multimeter and thermal imager that enables users to find hot spots or temperature anomalies.
The CM275 is a clamp meter that combines thermal imaging with electrical measurement, providing a fast and reliable way to identify hot spots and overloaded circuits from a safe distance.
The DM166 is a low-cost multimeter with a built-in 80 x 60 thermal imager, ideal for troubleshooting and diagnosing issues in both high- and low-voltage applications.
Rounding out the new FLIR range from RS are the DM62 and DM66 true-RMS digital multimeters for electrical and field service engineers and technicians. Combining a rich feature set, precise measurements and quality construction, the units offer measurement of voltage, current, frequency, capacitance, and temperature (with impedance on the DM66).
All of these new FLIR test and measurement products are now shipping from RS in the Asia Pacific region.
RS Components
1300 656636
au.rs-online.com