THERMAL ENERGY GAME-CHANGER ON THE CUSP OF COMMERCIALISATION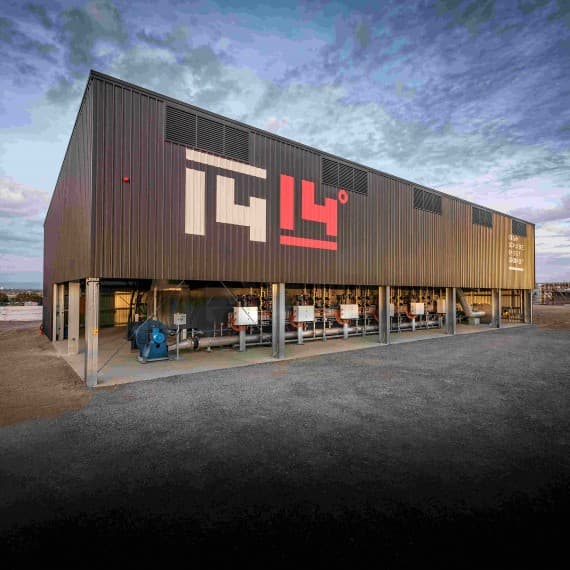 The world is in the midst of an energy transition as conventional power generation is replaced by renewables. Nearly two-thirds of all new power generation capacity added globally in 2018 came from renewable energy while total renewable power generation stood at 2351GW by year end.
But while there has been an innovation boom in renewable power generation, the emergence of game changing solutions to the challenge of energy storage has been far slower. Lithium-ion battery technology has advanced considerably but the race is on to find an efficient, cost-effective, and scalable technology to secure and stabilise renewable energy supply.
1414 Degrees has emerged as a world leader in addressing the energy storage challenge. With its headquarters in Adelaide, the company is now on the cusp of commercialising its unique Thermal Energy Storage Solution (TESS).
Focused on industrial scale rather than consumer energy storage, 1414 Degrees TESS technology combines heat and power to fill a critical gap in the energy storage market that battery technology cannot service.
Power delivered through gas or electricity is captured and stored as thermal energy in molten silicon. The heat is returned to the user as required in the form of hot air, oil, water or steam and additionally the heat can be used to power a turbine to produce electricity when required.
The key to this ground-breaking technology is in the company's name. 1414 degrees is the temperature at which pure silicon melts. And silicon is the key component in 1414 Degrees' heat-driven TESS technology. Its high melting point and extremely high energy density make it the perfect material for energy storage.
When harnessed through TESS, silicon can store and then deliver renewable carbon-neutral energy at the same level of reliability and stability as conventional power.
While lithium-ion battery storage can deliver electricity at scale, 1414 Degrees' TESS model harnesses the energy in latent heat to do the same thing but also supply industry's primary requirement of heat energy, meaning its solution is more useful and cost-effective. The company has projected that its TESS technology could be many times cheaper than battery storage and more versatile.
The energy storage technology has already passed proof of concept and its first commercial project is underway in partnership with SA Water. 1414 Degrees has built and installed a 10MWh TESS unit that stores energy generated from biogas at SA Water's Glenelg Wastewater Management facility. The unit enables SA Water to internally capture and re-use energy at the plant, allowing it to time-shift the energy in an effort to reach its goal of zero net electricity costs by 2020.
Having been supported through start-up and proof of concept by an Accelerating Commercialisation Grant from the Australian Government, a Renewable Technology Fund from the South Australian Government and various tranches of private funding, 1414 Degrees went public on the ASX in 2018 enabling the company to fund pilots of its TESS technology in commercial sites.
BankSA has supported the company's journey from prototype through initial public offering and ongoing commercialisation. 1414 Degrees 20-plus strong team is exploring multiple new commercial projects with partners interstate and globally.
Dr Kevin Moriarty, the company's Executive Chairman, believes the company's first commercial pilot project has been a landmark moment: "Through our successful partnership with SA Water we have taken a technology which had passed proof of concept and will now illustrate it's commercial viability. We are focused on demonstrating revenue models and scaling our solutions to gigawatt-hours to realise our potential to underpin energy stability and security here in South Australia and beyond as we transition to a renewable energy future."
1414 Degrees is the only energy storage company on the market with a proven thermal heat storage product which can be applied now, both within individual industrial operations such as SA Water's Glenelg plant or at grid level.
The timing for 1414 Degrees looks fortuitous as renewable energy transition reaches a commercial tipping point. All eyes will be on commercialisation, following the successful pilot project at SA Water.
These are exciting times for the company, and another sign of how South Australia is leading the way nationally and globally on renewable energy innovation.
1414 Degrees
1414degrees.com.au