TEXT PANEL HAS BUILT-IN PLC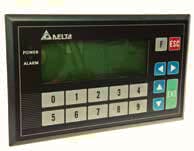 Mechtric has recently launched the Delta Electronics TP04P series text panel with integrated PLC.
The PLC is equipped with numerous instructions, and an 8kstep program memory.
Two versions are available with either 16 or 32 I/O both with relay outputs.
The front panel incorporates a 192 x 64 dot (100 x 38mm) monochromatic LCD display and nine user defined function keys plus operator keys.
It supports digital input/output modules and analogue modules (A/D and D/A conversion, and temperature units).
Program up load/download is via a USB port and two additional RS232 and RS485 comms ports are provide for communication with other devices.
Users can buy a program copy card to copy programs quickly and save download time. The editing software provides various object icons (bitmaps) to meet users' requirements.
Designed for panel mounting in a 164 x 97mm cutout, the TP04P offer IP66 protection from the front when correctly installed.
Mechtric
1800 252 995