TESTO INTRODUCES NEW AGE ELECTRICAL MEASUREMENT TECHNOLOGY
06-07-2016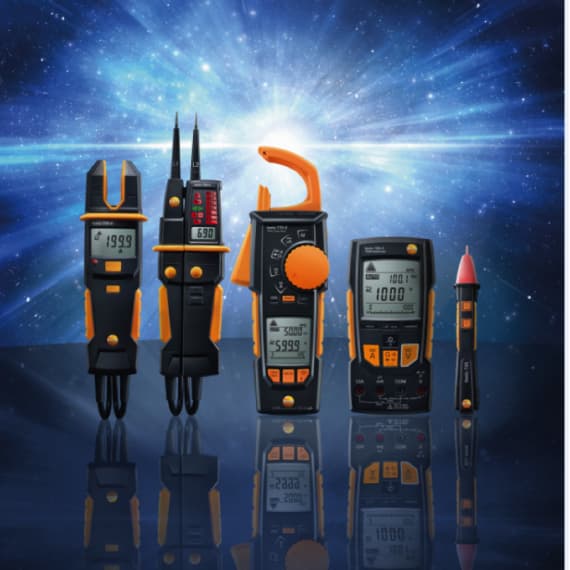 After research and development, measuring instrument specialist testo, are introducing their own electrical measuring equipment.
The new range of intelligent electrical measuring instruments from Testo make it possible for users to carry out their daily measurement tasks more easily, safely and efficiently.
The new systems from Testo boast many unique benefits as well as competitive price to performance ratios, with 12 products that coverage all electrical measurement need.
Testo is launching five new product families for electrical measurement of appliances and systems:
Three versions of a digital multimeter, which automatically recognises the measurement parameters by socket use, and which can be more safely operated using function buttons as opposed to a rotary dial.
The testo 760-1, 760-2, and 760-3, are three different models designed for all important electrical measuring tasks. The dedicated dials on all these instruments allow ease of operation and optimised reliability.
Three clamp meter models with a unique clamp mechanism for measuring tight-fitting cables - this allows for more precise cable grabbing.
The testo 770 clamp meter family are optimal for non-contact current measurements in switching cabinets.
Automatic measurement also helps to ensure reliability, with all three detecting direct and alternating current and select other parameters such as resistance, continuity, diode and capacitance automatically.
 Two current-voltage testers which meet the newest voltage tester standard and select measurement parameters automatically and without the danger of confusion.
The testo 755 current/voltage instruments are the first voltage testers that can measure current. Each time they are used that are able to automatically choose the correct settings, increasing safety.
 Three voltage testers, equipped with an all-round LED display that can be read from any position. There's also a non-contact voltage tester with a filter for high-frequency interference.
The three models of the testo 750 family are the first to feature all-around LED displays, making it easier to view from all angles and guarantees idea voltage indication, thanks to unique optic fibres.
"The reason why Testo wanted to get involved was to offer a technology with real added value." testo said in a statement.
"Testo wants to provide contractors in the fields of heating, ventilation, air conditioning and refrigeration the ability to work more efficiently and safely."