Testing a PCB has never been easier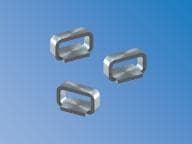 Minimal footprint … the new miniature SMT Test Point
A new, miniature SMT Test Point featuring symmetrical flat-wire design to efficiently and safely test PCB's is the latest addition to the Keystone Electronics Corp test point selection.
This latest "mini-pad" version, available from NPA Pty Ltd, enables high-strength, test point-to-PCB bonding, with a minimal footprint.  
In addition to cost-saving, this low profile entry accepts a variety of gripping probes to replace wire-wrap posts and turret terminals.  
As such, it is ideal for testing circuitry of high density PCB packages.
This new entry is manufactured from Phosphor Bronze and Silver Plate, which can accommodate the use of both lead-free solder and traditional reflow processing.      Packaging is on tape and reel with Catalogue No. 5019 on 1,000 piece reels; Catalogue No. 5029 on 5000 piece reels.  
All are compatible with most vacuum and mechanical pick and place assembly systems.
A major manufacturer of interconnect components and electronic hardware, Keystone's capabilities include stamping, machining and assembly service.  
Application engineering assistance for product modifications and special designs are also available.  
NPA Pty Ltd
Ph: 08 8268 2733