TEST AND MEASUREMENT PRODUCTS OFFER QUALITY AND AFFORDABILITY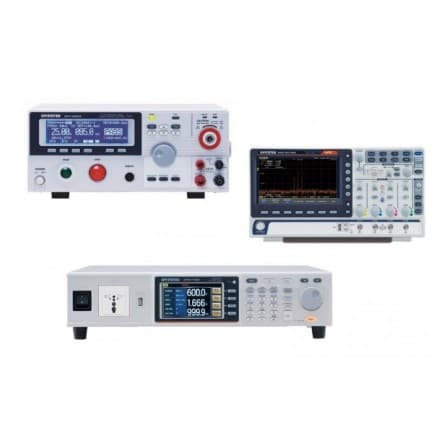 element14 has further expanded its product range with GW Instek test and measurement instruments, including programmable power supplies, electrical safety testers, signal sources and power analysers, all of which offer excellent quality at affordable cost.
The APS-7050 programmable linear AC power source offers output ratings of 500VA, 310V RMS, 2.1A and a frequency range from 45 to 500Hz with LAN and USB interfaces. This is ideally suited to producing complex and transient waveforms to verify the operation of electronic products under adverse conditions. Typical applications include production testing in the LED industry and standby mode power consumption.
The GPT-9603 electrical safety tester is used for testing AC/DC withstand voltage and insulation resistance. The GPT-9600 series AC 100VA AC/DC withstand voltage/insulation resistance tester offers an affordable solution for supporting routine tests of major items to international safety standards, such as the IEC, and other safety regulations. It is equipped with a PWM amplifier to impede influence from input AC voltage fluctuation and ensure a stable voltage output, providing users with an intuitive operation environment by a simple and clear panel layout, large LCD display and colour LED indicators.
The MFG-2110 10MHz function generator is part of the MFG2000 series, which includes the MFG-21XX entry-level models and MFG-22XX advanced models. The output channels of MFG-21XX models include one single-channel 10MHz arbitrary generator and one 25MHz pulse generator. All instruments feature a 4.3-inch TFT colour display.
"The addition of the GW Instek range of products provides greater choice for our customers through a wider offering of test and measurements products," says James McGregor, Global Head of Test and Tools at element14. "GW Instek has an industry reputation for quality, reliability, affordable prices and ease of use. These products are incredibly competitively priced and help electronics manufacturers to reduce testing costs and increase their productivity."
element14
1300 361 005
au.element14.com