TERTIARY EDUCATION REQUIRES POLICY OVERHAUL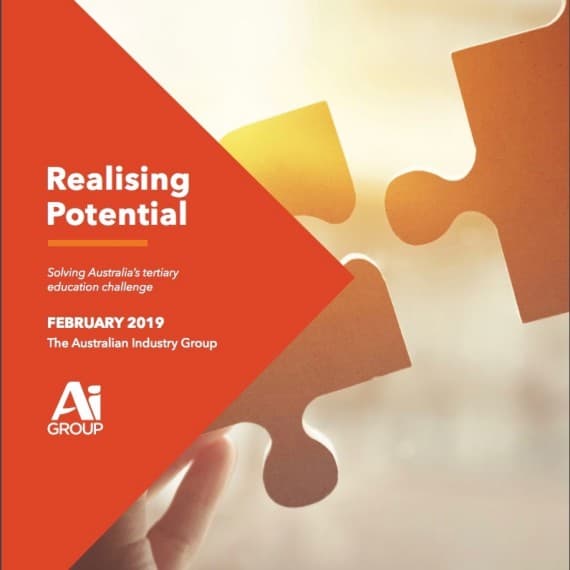 Ai Group has released a wide-ranging report into Australia's tertiary education system, identifying the challenges that need to be addressed to deliver better outcomes for students, the community and the economy and making recommendations that would add greater coherence to the policy framework underpinning all post-secondary education in Australia.
The report, Realising Potential: Solving Australia's tertiary education challenge, makes the following key findings and recommendations:
• Tertiary education is characterised by a highly unbalanced binary model with no coherent policy and funding framework.
• There is a need to establish a long-term policy view for tertiary education rather than short-term attempts to address components of the overall system.
• While recognising the distinctive features of higher education and VET, there is a need for a more coherent and connected tertiary education system to be established.
• An independent coordinating body should be established and charged with the responsibility of delivering government policy in a more coherent manner.
• A key function of an independent coordinating body would be to establish equitable funding arrangements across the sectors and between levels of government.
• Given the increasing diversity of learner needs it is desirable to have a greater variety of provider types within the tertiary education system.
• Given the low volume of student transfer between higher education and VET there is a need for a model that includes more systematic methods to facilitate movement between the sectors.
• A universal tertiary education student loan scheme should be established, initially for diploma and above courses, to create a more equitable and cost-effective system.
• Maintain both the Tertiary Education Quality and Standards Agency (TEQSA) and the Australian Skills Quality Authority (ASQA) as respective regulators for their systems while establishing joint functionality in appropriate and agreed areas.
• Promote workplace learning as a recognised key delivery component in all tertiary education.
• The qualifications structure in Australia needs to be reviewed to consider the emergence of micro-credentials and any other developments impacting on the key outcomes of tertiary education.
Ai Group Chief Executive Innes Willox said: "If the Australian economy is to continue to prosper and remain internationally competitive, it is vital to have access to a highly skilled and qualified workforce. With the rapid advance of technology and digitalisation, a higher level of skills for the workforce is more important than ever. This report sets the challenge to create an effective education and training system that is both more coherent and more connected."