TERMINAL BLOCKS MAKE THE RIGHT CONNECTIONS ONBOARD
12-07-2017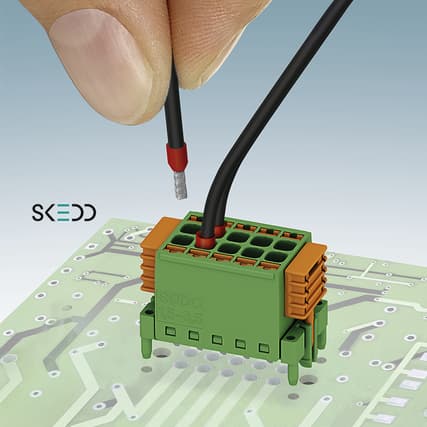 Available now from RS Components, the new series of 3.5mm-pitch SDDC PCB terminal blocks made by Phoenix Contact is ideal for wire-to-board connections in industrial equipment, such as control cabinets.
The terminal blocks feature Phoenix Contact's direct-plug-in SKEDD technology, which allows direct contact between connector and PCB with no need for a plug and header combination. What's more, no soldering is needed: latches on each side of the terminal block operate locking pins that ensure secure and vibration resistant connection to the PCB.
The SKEDD design also gives the contacts sufficient force to create a gas-tight connection to the PCB. There are also screwless push-in spring terminations for wire connections.
The space-saving SDDC 3.5 series is available in sizes from two to 16 positions, offering four to 32 poles in a two-row configuration. The terminals are suitable for conductor cross-sections from 0.2 to 1.5mm2, and are specified for currents up to 8A and voltages up to 160V.
RS Components
1300 656636
au.rs-online.com