Product News, Education & training
Published 11-02-2021
| Article appears in February 2021 Issue
Tente puts the wheels in motion for Woods Furniture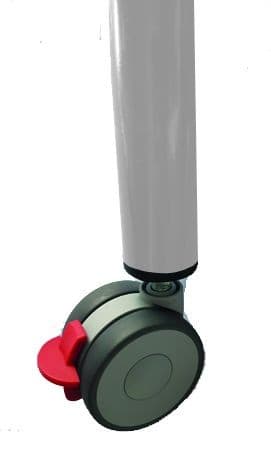 Ease of mobility and a clean, modern design are both necessary when creating products for use in schools and universities. For teachers and their often rowdy students, building a sturdy chair or table starts from the ground up.
That's where Tente comes in. Since 1923, Tente's range, designs and practices prioritise safety, ergonomics and efficiency.
Their market-leading wheels and castors fit seamlessly with the mobile tables, chairs and storage units that Woods Furniture offers.
Australian supplier of educational furniture Woods Furniture, designs and manufactures products for 3500 educational institutions including pre-schools, kindergartens, primary schools, high schools and tertiary institutions across Australia, New Zealand and the Middle East.
Their ranges of classroom tables, computer desks, workstations, staff desks, chairs, storage cabinets and meeting tables all feature mobility as a priority.
Based out of their Brooklyn, Victoria headquarters, Woods Furniture relies on Tente castors and wheels for all its requirements and believe in delivering a high quality product that is both durable and reliable.
"Tente probably do have the best castors for the furniture industry. They are a great product," says Tony.
"They are also aesthetically pleasing," he adds. "Rather than just having a black castor or a castor that might have a metal casing, Tente have sleek modern features."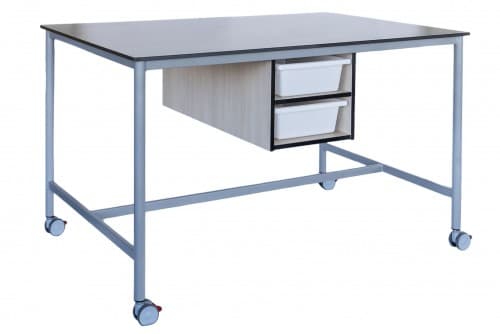 Where possible, all products are designed to be mobile and be manoeuvrable by teachers and school-aged children alike. Indeed, many of Woods Furniture's own customers point to their products' modern designs, comfort, sturdiness and longevity as defining features, with Tente wheels at the forefront of mind.
"Compared to previously where may have had complaints about a castor breaking, now we don't. That's the big difference – there are reduced breakages and customer complaints," says Tony.
The Woods Mobile Storage Trolley relies on Tente's wheels as they have the strength and durability to withstand the constant demands of being handled by students in classrooms and school hallways.
Similarly, the Woods STEM Learning Bench enables four students to comfortably work around with essential material storage. STEM based learning requires tables capable of multiple purpose and flexibility and the four heavy duty castors and rigid frame allows the product to be flexible in learning spaces.
Woods Furniture uses the Linea Light Swivel range of Tente castors to do the job. They feature a twin wheel castor with high manoeuvrability, directional lock for improved steering around bends, central locking at the touch of a button and was awarded prestigious prizes by international juries for its design.
Tony highlights the flexibility and adaptability of the Linea range. It can not only withstand the rigours of use on a storage trolley, but can also be used on mobile seats.
The Jumper Air Move – an office chair designed for an ergonomic, dynamic seating posture – has both comfort and style, which Tente's Linea castor has in spades.
The long-lasting partnership has developed from simple beginnings almost 10 years ago and they've since switched all their mobile products over to Tente castors and wheels.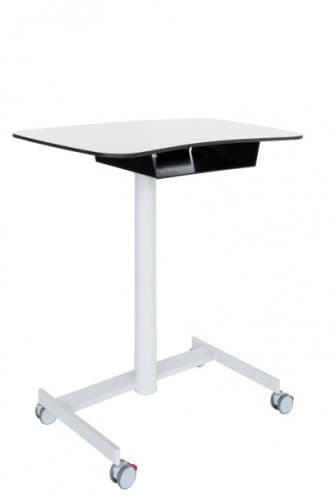 The Woods Furniture product development team always have the castors in mind when designing a new range.
They have several products in the pipeline that all utilise Tente castors and expect to launch a new storage range in mid-2021.
"Any storage type units we produce, where possible, we make them mobile with Tente castors and wheels," says Tony.
"If the product is oversize – you have to take safety into consideration – but where possible, if we can make a product mobile to make it easier on the end user, we'll certainly do that."
Tente have an extensive range of products to fit almost any requirement. They have a wide capacity for its castors' performance – from tiny pedestal or chair castors to heavy industrial castors and wheel solutions.
Tony points to the strong client and business relationship that Woods has with Tente as a feature of its supply chain solutions.
"Having a point of contact here that my team can go to and knowing that they are readily available is important," says Tony, who adds that Tente's commitment to serve as key.
"We also do research on businesses to ensure they have the same morals and ethics as ourselves.
"The more you look into it and the more you explore it, the more you realise there's so many more opportunities to be able to evolve. And we find Tente to be a similar company."