Tente helps drive productivity
15-02-2010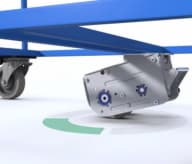 Tente's industrial E-Drive 1 suits a wide variety of existing trolleys and can be retrofitted to suit. 
The E-Drive 1 is ideal for platform, food and laundry trolleys. 
Each system comes complete with the e-drive unit, control unit, control module, battery module and battery charger.
This high quality system is user-friendly with effortless starting, driving and stopping of heavy trolleys. It is also easy to manoeuvre – and is maintenance free. 
The E-Drive 1 can reduce the risk of injuries to employees and therefore reduce lost days and compensation claims.
The drive system is designed for indoor use on level floors. The unloaded transport system should weight at least 50kg and the transport system and load together should not exceed a gross weight of 400kg with start assistance and 200kg with drive assistance.