TENTE HEAVY-DUTY CASTORS FOR HEAVY LOADS
26-02-2015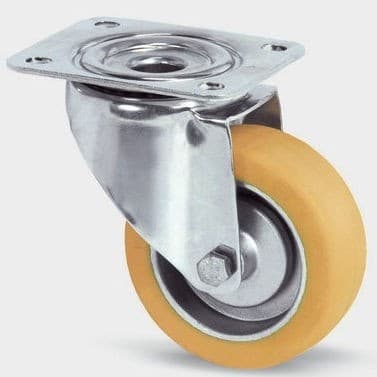 Extreme weights require extreme castors and exceptional performance is called for.
TENTE heavy-duty castors are designed specifically for transporting heavy loads.
Their solid construction, with a housing made of heavy-gauge steel or stainless steel, enables the heavy-duty castors to handle weights of several hundred kilos and even as much as 12 tons per castor.
Despite the heavy loads, they can always be precisely and effortlessly manoeuvred so that you can safely move your heavy goods to their destination.  
The smooth-running, heavy-duty castors suddenly make transporting large weights a piece of cake. The high-quality blue-passivated surface treatment means that the heavy-duty castors can be used for long periods of time.
TENTE offers heavy-duty castors as swivel castors with total lock or directional lock, and as fixed castors too.
TENTE conduct long-term tests to simulate the load resulting from different weights on different floors and under various conditions.
This is the only way to ensure that each and every heavy-duty castor put into use is of the highest quality and enjoys a long and reliable service life.
TENTE guarantees the best possible load-bearing capacity.
TENTE Castors & Wheels
Ph: 1300 836 831