TENSIONING PUMPS PROVIDE PLENTY OF PRESSURE FOR SAFE BOLTING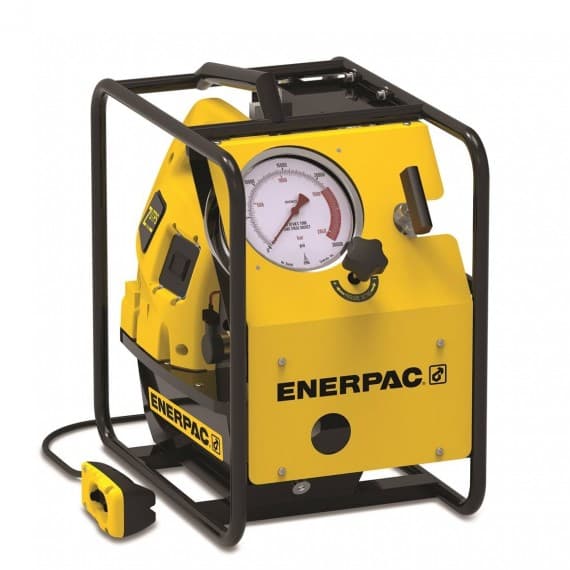 Enerpac has a new range of pendant-operated electric tensioning pumps that enable speedy and safe multiple-bolt applications, including applications in gas turbine machinery, compressors, wind power plants and oil, mining and energy industries.
The rugged and compact ZUTP-S 1500 bar series pumps feature two-stage operation that provides high flow at low pressure for fast system fills, followed by controlled flow at high pressure for precise operation. And the pumps achieve their high pressure without the need for an intensifier, reducing both costs and maintenance.
Users of the ZUTP-S can pressurise and depressurise the tensioner directly from the 6m-long operating pendant.
According to Enerpac Asia-Pacific Marketing Manager Tony Cooper, "The ZUTP-S Series is typically used in oil and gas, wind power and power plant applications, it works well when used for critical joints in the assembly of gas and wind turbines, compressors, power shaft couplings and oil and gas pipelines. This tensioning pump is extremely reliable and provides great power and precision that our customers value."
The pump features a 1.25 kW heavy-duty universal motor that provides optimal performance-to-weight ratio in a range of six compact pumps, all of which meet CE safety requirements and internationally respected TUV product standards.
The pump's safety relief valve limits output pressure, and there is an easy-access manual override valve, which quickly releases pressure if power is lost.
The panel-mounted 153mm pressure gauge with polycarbonate cover is set into a protective metal shroud for improved visibility. And the pump's replaceable 10-micron reservoir breather and inline high-pressure filter help to maintain oil cleanliness for optimum performance.
Enerpac
02 8717 7200
www.enerpac.com.au