TENNANT SET FOR CLEAN SWEEP AT NMW
08-05-2017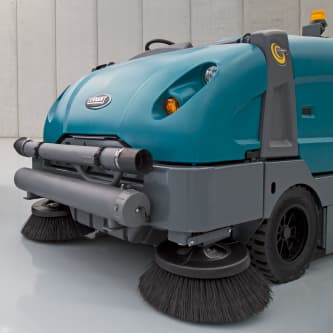 As one of Australia's leading solutions providers for warehouse and logistics cleaning, Tennant stays ahead of the game with its high-capability products, providing a feature set that will save time, money, and peace of mind.
Tennant's industrial sweepers filter dust particles down to 3 microns, 0.5 microns on most of the ride-on models. This protects your facility and employees from potentially harmful dust particulates. Tennant's sweepers also help to protect your merchandise from fine dust and reduces the slip and fall potential of customers and employees in your facility.
To reduce costs and environmental impact, many of Tennant's sweepers are equipped with Tennant's exclusive ec-H2O cleaning technology, which reduces the need for regular detergent use in your facility. ec-H2O technology electrically converts water into a cleaning solution to reduce your cost to clean and improve floor traction and safety, whilst enhancing your facility's image.
This follows Tennant's guiding policy of helping customers sustainably clean spaces with fewer resources and reduced emissions.
To see how the company's range of scrubbers are redefining the way the world cleans with chemical-free technologies, eliminating emissions, and reducing noise pollution, visit Tennant on Stand 1116 at NMW.
Tennant
1800 226 843
au.tennantco.com