Published 01-09-2020
| Article appears in August 2020 Issue
TENNANT CELEBRATES 150 YEARS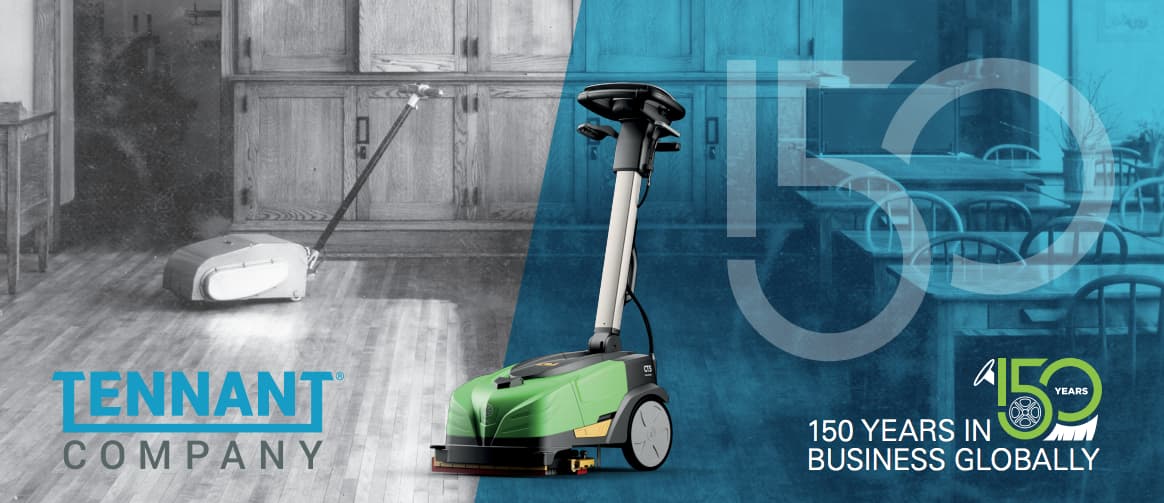 When George H. Tennant started his woodworking business on the banks of the Mississippi River in 1870, he could hardly have imagined what it would become 150 years later.
Like many others, Tennant chose the location to power his sawmill, milling and planing timber to help build the young and growing city of Minneapolis, Minnesota.
In time, Tennant's business grew and evolved as company leaders made investments in innovation and focused on solving problems for customers.
Innovation is at the core of Tennant's success and always has been, from the early days when the company recognised the potential of mechanising the laborious task of maintaining its wooden floors to the groundbreaking work it does today.
Over the years, the company moved from making floors to providing floor care solutions. It introduced innovative products to improve cleaning processes, provide safer and more comfortable equipment for operators, and make cleaning more sustainable.
The latest advancement in this proud tradition is the first-to-perform robotic floor scrubber. Tennant's entry into the world of robotics shows that the 150-year-old company is still very mjuch focused on the future - and looking forward to another 150 years of industry firsts.
The Tennant brand has become renowned worldwide for quality, reliability and service in the cleaning industry. The flagship mark leads other respected brands owned by the company, including Nobles, Alfa, VLX and recent acquisitions IPC and Gaomei.
With manufacturing facilities in Europe, Asia and North and South America, direct sales operations in15 countries and a network of distributors spanning more than 100 countries, Tennant Company cleans around the world to fulfil its mission: making the work a cleaner, safer and healthier place.
Built into that mission is a focus on community and stewardship that has become a core part of Tennant's culture. In addition to sustainable technologies and cradle-to-cradle manufacturing processes, the company contributes to its communities by maintaining environmentally focused practices in Tennant facilities as well as engaging in community cleanup and improvement activities.
Volunteering and community involvement take many forms at Tennant. In fact, the cornerstone of the company's celebration of this year's milestone anniversary is its "$150k for 150 Years" challenge, inviting Tennant employees throughout the world to raise the equivalent of $150,000 for charities they choose through donations of cash, goods and work in their neighbourhoods.
A century and a half of innovation. Of community involvement. Of customer partnerships. This year, as Tennant Company celebrates its 150th anniversary, a new global headquarters campus is opening in Eden Prairie, Minnesota. The property is less than 20 miles from the Mississippi River where George Tennant started his journey - fitting for a company that is grounded in deep traditions, inventing its future and making its mark as an industry leader.