TENNANT'S NEW HEAVY-DUTY SWEEPER FOR IMPROVED SITE SAFETY
19-05-2015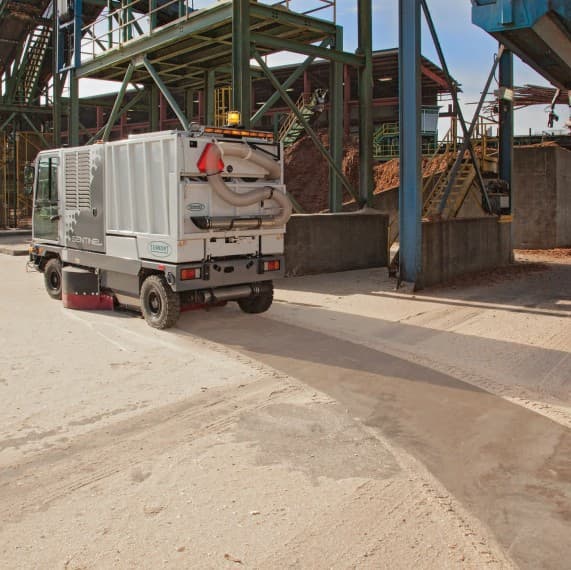 Controlling dust and debris in manufacturing facilities is a daily challenge.
Dust is more than just a nuisance – in some cases the accumulation of dust, particularly on access roads, in car parks and around loading areas, can severely impact on a facility's operational efficiency, safety and image.
The presence of large amounts of dust can further impact employee health with consistent exposure to airborne particles causing respiratory illness and aggravating allergies and asthma.
It is imperative that businesses look towards sustainable, reliable and effective dust control measures to protect their facility, employees and surrounding community.
The Tennant Sentinel is the solution for large outdoor cleaning challenges.
Delivering reliable, high quality performance, the Sentinel heavy-duty outdoor sweeper offers superior dust control and sweeping capability in the harshest, most demanding environments.
The Sentinel has a proven track record in sites across Australia in controlling dust as small as 3 microns, enhancing facility image and improving site safety.
The Sentinel provides an all-weather, dry and wet dust control system, with exceptional maneuverability.
The Sentinel comes standard with a right hand side brush and a unique centre-point suspension main brush, which directs all types of debris into the hopper.
All brushes are fitted with dry dust control skirts to keep dust from spreading outside the path of the machine.
This is extremely important to ensure all of the dust is captured rather than becoming airborne, significantly protecting the surrounding air quality.
Tennant's patented centre-point suspension main brush further protects air quality and ensures complete dust pickup in a single pass.
The centre-point suspension allows the main broom to follow the contours of uneven surfaces without the need for brush adjustments.
This makes the Sentinel highly productive on uneven terrains, increases the life of the main brush bristles, which ensures exceptional dust and debris pickup.
The Sentinel is equipped with a 20 sqm water-resistant polyester filter that captures dust particles as small as 3 microns.
The Sentinel also has a hydraulic-drive filter shaker, one of the most aggressive filter cleaning systems, which shakes dust from the filter so it falls back into the hopper.
This system keeps the filter in excellent condition for longer life and lower maintenance costs.
The Sentinel is an extremely high capacity machine with a large 2.6m3 hopper capacity, well suited to large outdoor spaces, and performs exceptionally well on a variety of uneven surface types.
The machine provides excellent cleaning performance in congested and open spaces which helps to reduce your cost to clean, improve your facility image in an easy to use and maintain industrial sweeper.
Contact Tennant Australia for more information on the Sentinel and for an obligation free onsite survey.
Tennant Australia
Ph: 1300 8366268 (TENNANT)