TELESCOPIC BOOM HAS THE LATEST IN SAFETY AND SUSTAINABILITY
07-09-2017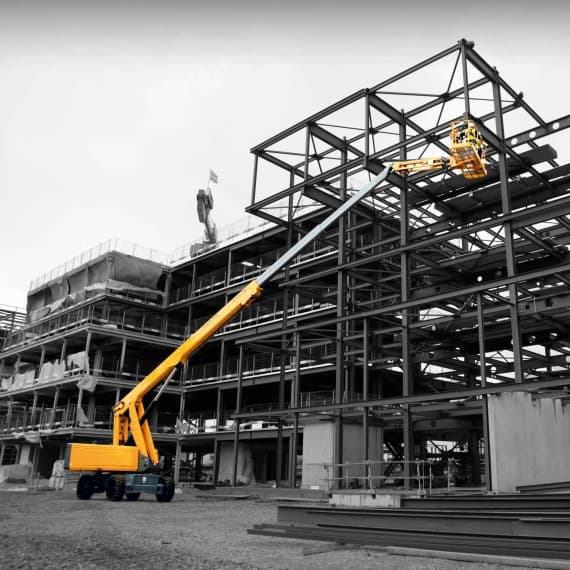 United Forklift and Access Solutions is now offering the new Haulotte HT28 RTJ Pro telescopic boom, featuring the latest advanced safety and sustainability innovations for optimal performance in a range of access and maintenance applications.
The new Haulotte HT28 RTJ Pro boom lift has a maximum outreach of nearly 24m, below ground reach of 3m and ground clearance of 480mm. It is compact, easily transported and offers excellent rough terrain capabilities.
"The HT28 is robust, easy to maintain and suitable for all industries. The latest innovations will bring the productivity and reliability that the Haulotte brand is already known for globally," says Andrew Macdonald, National Product Manager – Access Division, United Forklift and Access Solutions, which is the national distributor for Haulotte products in Australia.
He adds: "It is ideally suited to tasks requiring access equipment in industries such as building, construction and infrastructure, ship maintenance, forestry, mining and maintenance of large structures."
The HT28 boom also has an optional dual load capacity of 230-350kg. In the 350kg mode, the platform can accommodate up to 40% extra equipment weight. The unit also has an oscillating axle, four-wheel steering, hydraulic differential wheel lock, high ground clearance, and gradeability up to 45%.
The Haulotte HT28's maximum outward reach of almost 24m makes it ideally suited to awkward access applications
Safety
The HT28 comes with in-built Activ'Screen technology that provides real-time diagnostics and is capable of displaying malfunction resolution, machine settings, maintenance alerts and service intervals.
Activ'Screen's onboard fully coloured monitor screen and diagnostic system provides precise information for operators to help avoid unnecessary service calls or field intervention on rental equipment, maximising machine uptime. By directly accessing the machine parameters and diagnostic information in real-time, fault diagnosis is three times faster.
The Telescopic Boom lift also comes with the next generation of secondary guarding, Haulotte's Activ'Shield Bar 2.0, which provides a safety gap to prevent physical crush injuries when the machine is in operation. Activ'Shield Bar 2.0 offers additional protection without compromising productivity.
The HT28s are also fitted with Haulotte's new industry-first Activ'Lighting System, which allows loading and unloading to occur at night. The ultra-high-performance lighting system is located at several points around the machine. The lighting system illuminates controls and the area around the boom so operators can safely carry out manoeuvres in a well-lit environment.
Sustainability
Another innovative new feature fitted to the HT28s is Haulotte's world first Stop Emissions System for booms that automatically switches off the engine after 90s of idle, reducing running time by up to 20%, and reducing fuel consumption by up to 8%.
Automatically stopping and restarting the engine reduces engine use and peripheral components by up to 20%. This extends machine life, extends residual value, decreases fuel consumption and lowers operating costs, and with 20% less noise, permits use in sensitive areas like hospitals and office buildings.
"The innovative safety and sustainability features of the new HT28 make it a truly industry-leading telescopic boom, with useful benefits for a huge range of access applications," says Andrew Macdonald.
United Forklift and Access Solutions
131 607
www.unitedequipment.com.au