TELEHANDLER PROVIDES FULL-SIZED PERFORMANCE AT RIGHT-SIZED PRICE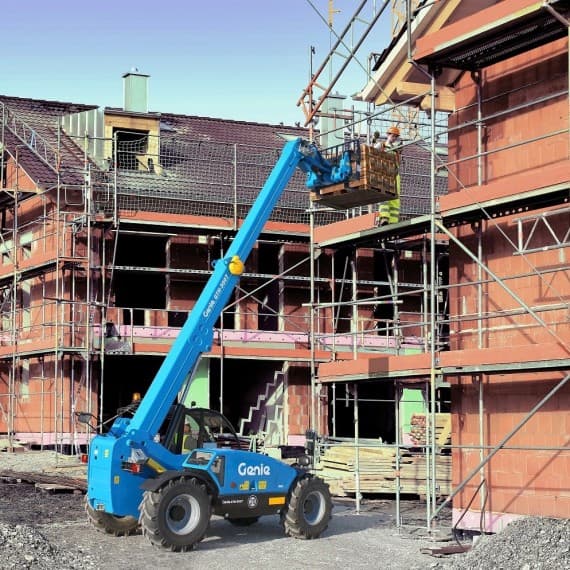 The Genie GTH-3007 compact telehandler provides fleet owners versatile on-site productivity and cost efficiency, resulting in a high rental return on invested capital.
"The new Genie GTH-3007 telehandler combines efficient, full-featured capabilities with the most compact dimensions and lightest machine weight in its category," says Kurt Kinder, Genie National Sales Manager, Terex AWP Australia.
The higher-reaching, heavier-lifting brother of the Genie GTH-2506 compact telehandler, the new GTH-3007 shares the same rugged durability as all other models of the Genie GTH family.
"However, unlike other heavier units by other brands, our new Genie GTH-3007 telehandler combines the full capacity of a 6.89m machine with the cost efficiencies that only a 55kW Stage IIIA engine can provide," says Kinder. "Servicing is also notably faster and easier than units with higher horsepower engines, which enhances rental availability and boosts profitability."
Its compact dimensions (length at attachment frame 4.66m, width 1.99m and height 2.30m), low weight of 6,060kg, 2.55m inside turning radius and 43cm ground clearance make it the perfect choice for confined spaces on busy sites.
It provides a maximum lift capacity of 3,000kg, or 2,500kg at its maximum height of 6.89m and 800kg at its maximum reach of 3.86 m, and offers the benefits of a low-emissions 55 kW Deutz Stage IIIA compliant engine.
Its load management system is more sophisticated than previous models, and has been fully integrated into the machine's control system. "It provides the operator with more information via a dynamic load chart, which is presented on a 17.8 cm (7 in) colour display," Kinder explains.
The system also includes a reversing camera, optional forward/side camera and optional operator access controls that can be set up to restrict the attachments each operator can select. It can be configured for full operator access or restricted access via a 4-digit PIN code or a unique electronic key.
Combining the durable quality and serviceability features that Genie products are known for, the GTH-3007 includes a rugged chassis, a two-stage boom with no chains or cables, durable steel front mudguards and field-proven Dana axles with dual brakes, full-time planetary four-wheel drive and four-wheel steer.
Equipped with a variable speed hydrostatic transmission for a smooth powerful drive, it features a side-mounted engine cover with a comfortable opening angle for easy filter replacement, access to engine components and hydraulic test ports located at the front of the chassis. For attachment flexibility, it comes standard with an auxiliary hydraulics Quick Attach carriage, a feature that the model shares with the Genie GTH-2506 compact telehandler.
Genie Australia
1800 788 633
genielift.com.au/