THIS TELEHANDLER IS ONE OF A KIND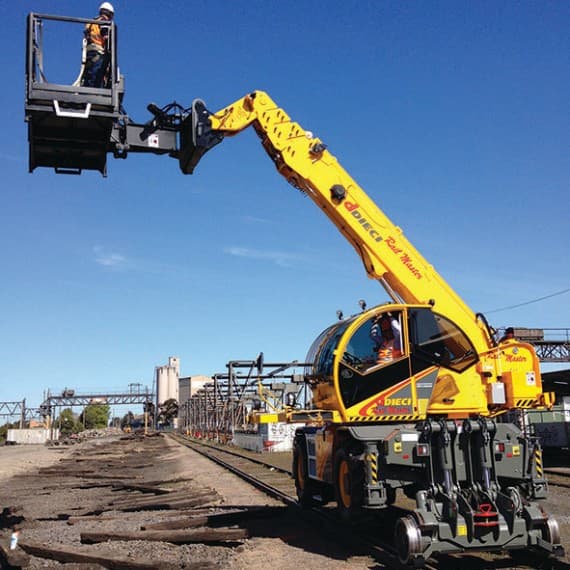 Made in Italy, re-engineered in the UK and launched in Australia, the Dieci Pegasus 50-19 Railmaster Telehandler is a unique machine in many ways.
In its original design, this was always a versatile and powerful telehandler but thanks to some innovative thinking and high level engineering and design enhancements, it has now been reborn as a rail maintenance machine without equal.
John Holland Rail Engineering Manager Adam Veerstage said: "The Pegasus Railmaster is a fully integrated solution for tunnelling and rail, making it unique to Australia.
"The biggest advantage of the Dieci Railmaster is that it doesn't need an outrigger to work – it can move along the rails at about 4km/h with a man inside the basket. This makes it an extremely versatile and useful machine."
The Dieci Railmaster was developed in a collaborative engineering project between Dieci Italy, Dieci Australia and Rex Quote in the UK, and is fully supported by Dieci Australia meaning if anything needs fixing or replacing, there is no need to go to any third-party.
The ability to tow 20 tonnes, carry 600kg in the basket (more than twice that of its nearest rival), lift up 5 tonnes when used as a telehandler, 18.7m lift height and 360˚ rotation capabilities and the potential to be run on rubber wheels and hi-rail, puts this machine into a class of its own.
Dieci Australia
Ph: 1300 636 963