TECPRO TORNADO TANK CLEANER BLASTS AWAY COMPETITION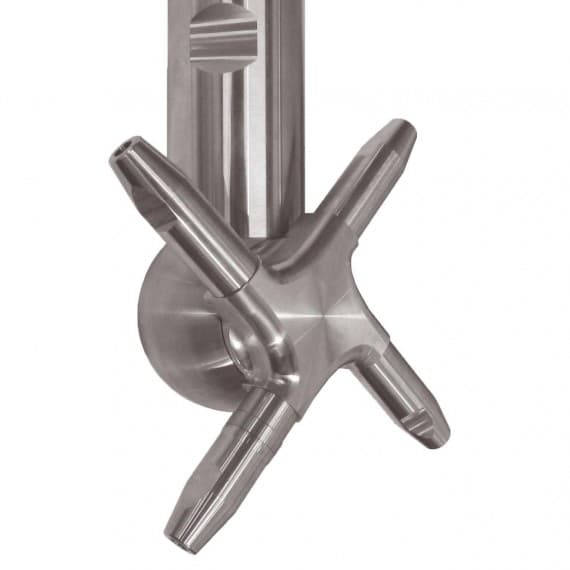 Time means money, especially when it comes to cleaning large tanks like those used by wine and beer manufacturers. The faster and more efficient the cleaning process, the faster the tank can be recommissioned. 
Longer cleaning times also result in increased costs for water, cleaning fluid and effluent disposal. Little wonder, then, that there is such a buzz around the Tornado 4-Nozzle Rotating Cleaning Head.
With a huge effective cleaning diameter of 33m, the Tornado 4 is a state-of-the-art Clean-In-Place (CIP) solution for large tanks where hygiene is critical. The round jet nozzles rotate in 2 planes generating a highly efficient 360° wash pattern that lasts just seven minutes. The Cleaning Head can withstand operating temperatures up to 95°C and ambient temperatures up to 140°C.
The Tornado is driven by the wash fluid and is the most powerful cleaner of its type with its fast 7 minute wash cycle applying maximum cleaning fluid in minimum time. The Tornado 4 Cleaning Head is suitable for use as a mobile unit or fixed installation.
The Tornado is designed for situations where hygiene is a priority.  There are no exterior fixings, bolts or threads so there is nowhere for product to settle. This greatly reduces the risk of cross-contamination between batches.
The Tornado Cleaning Head also has a simple internal configuration to ensure any product which has found its way into the unit is easily flushed out. This feature is particularly important in applications where the Cleaning Head may become submerged in product.
Plus, the self-cleaning Back Wash nozzles ensure any remaining product is blasted from the Tornado to maintain the highest level of cleanliness and hygiene.
The Tornado 4-Nozzle Rotating Cleaning Head has only 48 component parts in total. Its simple design means the unit is easy to repair with maintenance kits available for in-house servicing. Alternatively, you can return the Cleaning Head to Tecpro Australia for cost effective servicing by trained staff.
Tecpro
1800 TECPRO