TECO extends electric motor range to the MAX
31-08-2010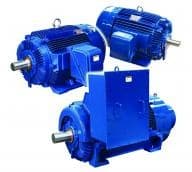 New range … the MAX-E3-H66 family of energy efficient motors from TECO
Leading global industrial electric motor manufacturer, TECO, has unveiled an additional range of its long established MAX-E design electric motors.
The new, low voltage series meets the stringent International Electrotechnical Commission's (IEC) safety standards for electrical equipment used in hazardous areas.
They are IEC Ex certified from frame sizes D71 up to D355 with certification available in the following hazardous areas:
TECO MAX-Exe; Increased Safety
Ex e, Zone 1, Gb, IIC, T3, 40˚C ambient to AS/NZS60079.7:2006
TECO MAX-ExnA; Non Sparking
Ex nA, Zone 2, Gc, IIC, T3, 55˚C ambient to AS/NZS60079.15:2006
TECO MAX-ExtD; Dust Ignition Proof
Ex tD, Zone A21, T135˚C IP66, 55˚C ambient, to AS/NZS614241.1:2005
Certificate Nos: IECEx TSA12.0016X, TSA12.0017X, TSA12.0018X.
Whether modified in Australia, or supplied direct from TECO's factory in Taiwan, TECO can now adapt the Max-E2 or the latest MAX-E3-H66 class leading Premium High Efficiency, Class H insulated, IP66 mining duty motors to meet the safety demands of most hazardous areas. This complements the existing IEC Ex certified TECO MAX-Ex de stock range of Flameproof motors.
The MAX-Ex range of stock motors can be modified to meet numerous application specific requirements including foot (B3) or flange (B5 - B14) mounting options, auxiliary protection such as thermistors, RTD's for stator or bearing temperature monitoring, anti-condensation heaters, separate terminal boxes for accessories as well as special paint finishes to name a few.
With the addition of the MAX-Ex hazardous area motors, TECO now offer a complete range of electric motors that combine the highest levels of environmental safety together with the lowest running costs.
The proven sophisticated electro-mechanical design and high-energy efficiency of the MAX-E3-H66 range makes it perfect for the rugged Australian mining sector and other demanding industries.
TECO Australia
Ph: 02 9765 8118