TECHNOLOGY EZINE EXPLORES THE ARRIVAL OF 5G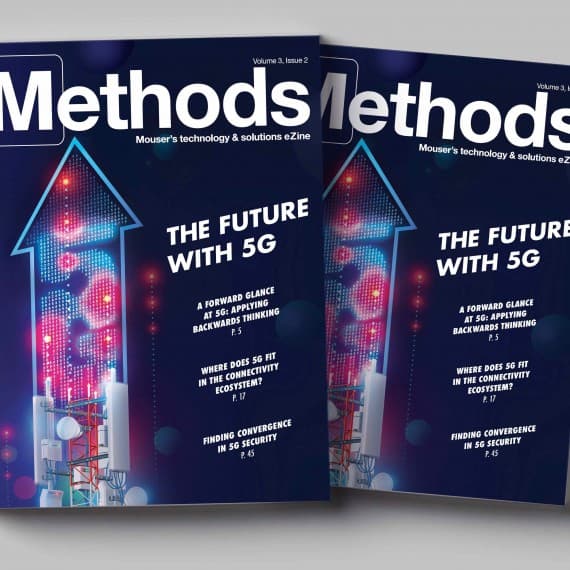 Mouser Electronics has released the latest issue of its technology and solutions eZine, Methods. The new issue, The Future with 5G, highlights the upcoming arrival of 5G networks, their implications for internet access and the IoT, plus consumer and industrial services, as well as the remaining challenges to be resolved before the deployment of 5G.
This issue of Methods features articles written by Mouser's experts, in addition to contributions from leading industry figures. Offering a broad overview of 5G and its applications, the issue provides a detailed introduction and insightful examinations of topics such as infrastructure, antenna design and security. It also features an article by Dr Emad Farag of Nokia Bell Labs on the 3GPP Release 15 5G Standard.
"5G is one of the world's most anticipated technological advancements, and its deployment will have wide-spread implications for industries and consumers," Mouser Electronics Senior Vice-President of Marketing Kevin Hess says. "Our newest issue of Methods helps readers to understand the changes that 5G will bring, through the help of added context and deep insights provided by the industry's leading experts."
The issue includes a thoughtful foreword from Jean-Pierre Bienaimé, Chairman of the Economic and Social Research Institute on Telecommunications, which points out the challenges facing 5G deployment while highlighting the initiatives underway throughout the world to address these challenges.
In addition to the eZine, Mouser offers a number of other resources for design engineers and buyers, including blogs, eBooks and newsletters. Mouser's Applications and Technologies site offers exclusive design resources, white papers, videos and product information, enabling design engineers to reach new heights product development and innovation.
Mouser Electronics
+852 3756 4700
au.mouser.com