Technology to drive future manufacturing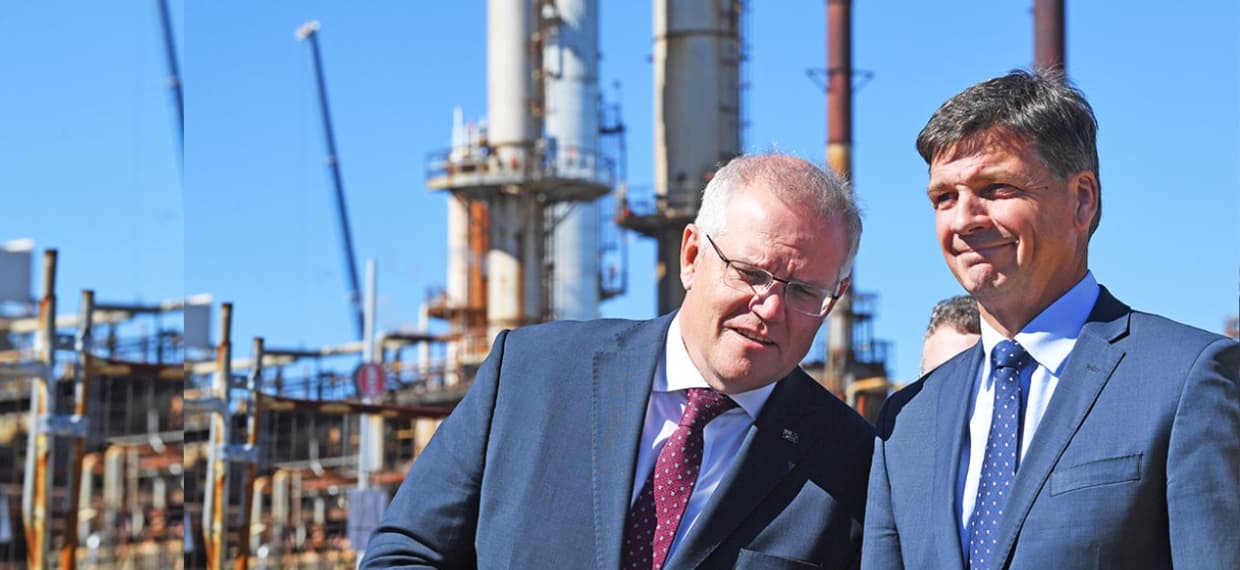 The Federal Government has a vision to meld high level technology with traditional manufacturing to create a "smart manufacturing" sector. In an exclusive interview with Industry Update, the Minister for Industry, Energy and Emissions Reduction Angus Taylor (pictured rght with Prime Minister Scott Morrison), outlined the three pillars of its integrated manufacturing, energy and emissions plan.
Taylor has previously stated that manufacturing is an essential driver of skills, jobs and capability. "The ability to make things here and do it well is critical to our economy and our economic plan." 
The focus, he explained, was to continue building on the success of the National Manufacturing Priorities of Space, Defence, Recycling and Clean Energy, Medical Products, Food and Beverage, and Resources Technology and Critical Minerals Processing.
"Over the next 12 months the Government will work with industry to finalise Manufacturing Investment Plans for each priority sector to guide further long-term investment in Australian manufacturing." 
According to Taylor, if Australia is strong in those areas then the country will have a sustainable manufacturing sector.
"Due to the changes in global trade as a result of the pandemic and now the war in the Ukraine, there is a window open for Australia to grow. To drive this we need to lift the commercialisation of our manufacturing," he added.
Although Australia has been behind the rest of the world in medical manufacturing, Taylor cited Vaxxas, a medical technology start-up located in Brisbane. The ASX listed company is revolutionising the way vaccines are delivered as an example of the translation of research from the University of Queensland that has been commercialised.
"Vaccinations have historically been given using syringes and needles; however through research and development, Vaxxas has been able to develop their Nanopatch – a less invasive vaccine delivery technology that creates a more potent immune response," he said.
Embedding technology
The second pillar encompasses the link between technology and traditional processes and systems.
"This is critical if we are to compete globally," he said. "We see time and time again in Australia that when we can embed technology into existing industries, that we can be a world leader without the high labour costs," he explained.
Urea is the most commonly used solid nitrogen fertiliser and in February this year, Strike Energy Limited was granted Major Project Status for Project Haber, its $3 billion urea manufacturing facility in the Narngulu Industrial Area, near Geraldton, Western Australia.
The project will produce up to 1.4 million tonnes per annum of urea from clean hydrogen and natural gas. Australia is almost completely dependent on imports of urea to support the nation's agricultural sector. Strike Energy is developing Project Haber to provide lower cost, lower carbon emissions fertiliser to Australian farmers. 
Taylor said the project was estimated to support 1,135 full-time jobs each year during the three-year construction phase and 300 full-time jobs per year over its 30-year life.
"Strike Energy's project has enormous potential for job creation and emissions reduction through embracing new technologies and onshore manufacturing," Minister Taylor said.
"The facility has the potential to deliver significant emissions reduction to Australia's urea manufacturing sector through the use of advanced ammonia and gas processing technology, as well as dedicated clean hydrogen.
"It also aims to reduce the reliance of Australian farmers on international supply chains to enhance our food security, given more than 90 per cent of urea is currently imported."
Investing in critical infrastructure
The third pillar focuses on the development of a competitive energy sector and Taylor believes that here, Australia has an advantage due to our population.
"Our technology not taxes approach will make sure Australia meets and beats our 2030 emissions target, and plays a leading role in bringing down global emissions by investing in the technologies that won't just help Australia, but will help the world. 
 "We are also investing in critical infrastructure to ensure reliable and secure energy for Australian households and businesses, and build on our strong record of reducing prices." 
Taylor noted that the 2022-23 Budget continues to back-in Australian manufacturing with an additional investment of more than $1 billion. "This builds on our initial $1.5 billion investment already committed through the Modern Manufacturing Strategy".