Published 13-08-2019
| Article appears in August 2019 Issue
TECHNOLOGIES SAFEGUARD PRODUCTS, PACKAGING AND TRACEABILITY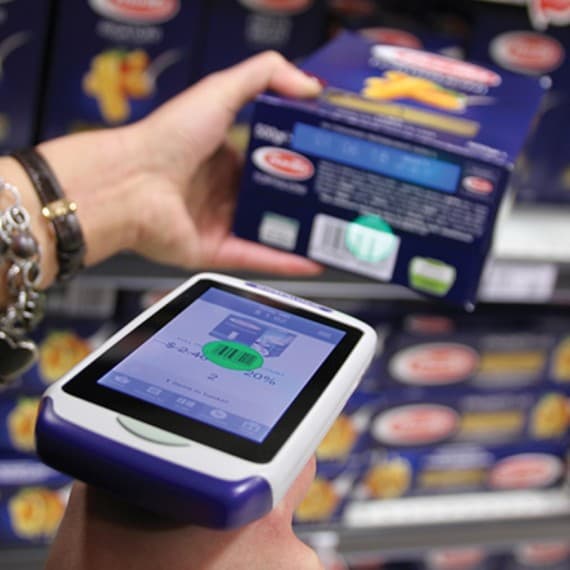 The Joya Touch multipurpose retail device
The technologies used by Datalogic can be divided into five categories, depending on the type and function of the product data or production process: marking (laser markers), scanning (barcode readers and vision systems), writing and reading (readers and RFID tags), object and physical feature scanning (photoelectric sensors, smart cameras and vision systems).
Datalogic products also detect and locate parts during the manufacturing process enabling the robot guidance and full automation of process (sensors, smart cameras and vision systems).
In the food and beverage industry there are several requirements and types of barcodes, of which the most widespread is the OCR marking code. Datalogic has been known as a leader in image-based machine-readable code readers and one of the few machine vision camera vendors to also offer laser marking systems and to bring both capabilities into greater alignment.
The company is focusing on improving its optical character recognition and code-reading tools, and has developed the new P-Series OCR, an ultracompact smart camera ideal for OCR print inspections on labels for the food industry, and the Advanced OCR vision software tool for very demanding applications with low-quality printed codes.
"We're developing tools that can read more challenging codes," says Bradley Weber, Product Marketing Manager at Datalogic. "Many times characters are not clear black-on-white printing, and many times the print is not perfect or it's on a varying background."
Weber adds that Datalogic has also upgraded its pattern-finding tool to be on par with the best in the industry. "We looked at speed, accuracy, and repeatability," he says. "We're now the gold standard on all three, able to find objects with the same or better subpixel accuracy as any other player in the market."
For traditional barcodes, legible exclusively with barcode readers, Datalogic Matrix Series 2D imagers enable full traceability from the manufacturing plant to the warehouse. The same traditional barcode is used for logistics applications, including automated reading at the supermarket checkout. Also, the use of the QR code is increasing. It contains more information, in terms of marketing, and can be read by a smartphone or self-shopping device like the Joya Touch multipurpose retail device from Datalogic.
The Joya Touch allows consumer applications such as self-shopping, queue busting and gift registry to be resident on the same device as operational applications such as shelf replenishment, inventory control, mark downs, price checks and more.
Datalogic
03 9558 9299
www.datalogic.com