TECHNOFAST HYDRAULIC NUTS SLASH HPGR DOWNTIME
21-11-2015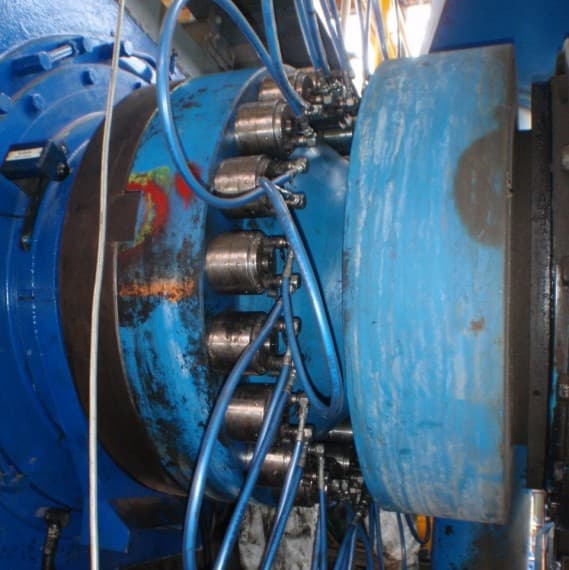 Maintenance downtime on High Pressure Grind Rollers (HPGR), now being used extensively in the hard rock mine processing industry, is being slashed with the introduction of Technofast Industries' innovative EziTite® hydraulic nuts.
By replacing the traditional fastening methods with EziTite® hydraulic nuts to secure the machine's gearbox coupling with the motor, mining companies are not only reducing the costs associated with the maintenance of these powerful machines, but are also eliminating several OH&S concerns associated with the tightening of nuts with large hydraulic torque wrenches.
The EziTite® hydraulic nuts simply replace the standard hex nuts on the gearbox coupling, and then they are linked together with a series of hydraulic hoses.
Because all of the units are linked together every stud can be simultaneously tensioned, providing an extremely accurate and even bolt load on every stud.
Technofast Industries' founder and CEO, Mr John Bucknell, says the EziTite® hydraulic nuts are ideal for this kind of application and can pay for themselves in a very short period of time.
"For example, when using a single hydraulic torque wrench, the time taken to torque the bolts can take anywhere up to seven to eight hours for two men, whereas using the EziTite® hydraulic nuts it takes two men less than one hour, meaning the machine is back in operation much sooner with less chance of injury to the workers involved."
The bolts are tensioned in one simple operation. They are rapidly applied by being screwed by hand onto the bolt studs, hydraulically actuated to stretch the bolt to the precise tension required, then secured in place mechanically with an integral mechanical locking ring. 
The charging pressure is relieved, and the EziTite® hydraulic nuts remain in situ at the precise target bolt load.
"But not only do the hydraulic nuts save an incredible amount of maintenance time, but findings prove the accuracy of the entire process improves drastically," Mr Bucknell said.
Simultaneous tensioning gives an extremely accurate and even load onto the flange/joint, enhancing its long-term security, safety and reliability.
And being designed to operate in the harshest of environments, the EziTite® hydraulic nuts have a well-earned reputation for longevity.
Mr Bucknell explained that the EziTite® Hydraulic Nuts have been used in the crushing industry for an extremely long time, "so they are perfectly suited to the HPGR couplings".
The EziTite® hydraulic nuts can be supplied with protective dust covers to prevent dirt and debris from entering or damaging the units, making the removal of them much simpler.
To remove, the EziTite® hydraulic nuts are simply connected with the hydraulic hoses again and then pressurised until the locking ring can be loosened.
Once this has been done, they can simply be removed from the coupling, and as there is no friction generated when installing the units on the studs, there is no chance that the threads will bind preventing the removal of the units.
Technofast Industries, Australia's leading hydraulic fastening company, offers a variety of products as standard, however if an application requires a different configuration, such as reduced diameter, higher output or special materials, then custom designed equipment can be produced to achieve optimum results.
Products manufactured at its Brisbane operation include EziJac Bolt Tensioners, EziTite Hydraulic Nuts, EziTite TR Hydraulic Nuts, EziTite Head Nut, CamNut systems, and other ancillary items.
Technofast products are particularly valued in applications where avoidance of downtime and reduced maintenance time is critical, including nuclear, hydro, gas and coal electricity generation plants as well as mining and industrial applications, and are employed worldwide including Australasia, Europe, Asia and North America.
Technofast has recently moved into a new, purpose-built premises, allowing the company to further expand its manufacturing capability for export markets with major distributors in international markets.
Technofast Industries Pty Ltd
Ph: 07 3803 6550