Published 03-11-2020
| Article appears in October 2020 Issue
TECH SUPPORT, NICE TO HAVE OR NOW ESSENTIAL?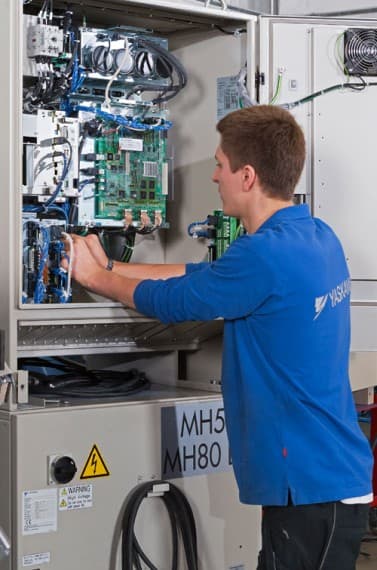 Have you had a look under your car's bonnet lately? Innovation and technology have evolved at such a rapid pace that even contemplating to repair or service your own vehicle is beyond the understanding and capabilities of most people.
Today's complex operating systems, mechanical components, and electrical controls require certain skills, tools, and specialised knowledge that can only come from factory trained technicians who possess the tools and software required to carry out critical servicing.
The good old days of self-servicing and maintaining one's own equipment is long gone, and hiring a professional service has long been accepted as the new norm where cars are concerned. 
The same applies nowadays to modern technology solutions employed in manufacturing. However, unlike a car, of which "many thousands are made", a modern palletising system (for example) uses multiple elements all coupled together such as robots, AGVs, packaging equipment, vision systems, laser scanners, barcode readers, labelers, PLC control systems, and the list goes on. 
All are important elements that make up a modern system for a client that, when integrated together, create a complex, be-spoke solution requiring a commensurate level of tech support.
A great example is Apple, who are hugely successful not only because they have a great product, but importantly they have in place an equally amazing tech support package second to none, which without they would not have had such great success. The two now go hand in hand.
This year, Covid-19 has unfortunately presented all sorts of issues for the manufacturing sector to combat. However, one unexpected positive outcome for RA is that, due to the restrictions regarding entry into Australia, our tech support team have been heavily involved with the installation of specialised robotic systems delivered by overseas integrators. The outcome has been beneficial for the client as now they also have a local tech support resource which they were probably unaware of.
It is interesting today to observe company procurement practices that still appear to not properly take into consideration the level of ongoing tech support that is going to be required for the full lifecycle of the system. Some ageing systems have had their operational life extended significantly way past their use-by-date by utilising a combination of having the right spares in stock and moreover, the appropriate tech support available. 
These systems generally had much simpler technology with less components and software controls involved. This approach may have been adopted previously by industry, however in today's fast paced and constantly changing global manufacturing environment, it is exposed for what it is: a high-risk strategy.
Due to constant innovation and changing technologies across the board, gone are the days when companies were able to provide their own in-house tech support for the reasons mentioned above. This trend is deepening but appears in some client's horizon to 'be a matter worth not much consideration'.  Thus, this subject has in many cases been given a less than appropriate level of priority when choosing a supplier and the total package being offered, especially the topic of local tech support capability.
Regarding spare parts this is also generally an increasing issue in this market and a subject worthy of further investigation. Below are a few such examples.
1)    In any given modern and complex automation system there are many components used in multiple quantities which in some cases are easy to replace with a new version or an equivalent; this has always been the case in the past.
However, with market pressure on component makers to constantly upgrade and promote their components as 'new', the rate of change has vastly increased in recent years. 
Hence the individual compatible product availability has reduced drastically in some instances to a couple of years compared to several years in the past.  If this is translated into the lifecycle of a whole system being 15 or more years long it is possible that the parts you are looking to replace are four to five generations out of date!
2)    Many suppliers have also embarked on securing future demand for their products by ensuring their parts are hard to replace with a different brand.   With the software, wiring, and plugs all being unique, it makes it hard to simply swap out a part for another brand.
There is a simple solution to combat this issue: companies need to allocate some funds for spares. The client, with the help of the supplier, has the option to acquire what is deemed to be the minimum spares package rated on a risk basis when the system is initially purchased. 
These critical decisions give a business the peace of mind and confidence that by conducting early due diligence it has taken significant steps to remediate any future issues which arise. This small investment up front could save a huge amount of down time, expense, and stress.
Do I hear a call for the integrator to carry these spares? This is difficult for all the reasons above.
The component employed or required could well be one of only a few in the country and possibly the only units ever sold by that system integrator.
"How about leaning on the integrator's supplier located in Europe?", I hear you say. That is possible, but given the issues listed in the two examples above, they are almost in the same situation.  You also must consider the supply chain and time frame for door-to-door delivery, especially during Covid-19.
Industry, along with society, points to the direction of future and change in most walks of life. One thing is for sure: we are not returning to the old ways.  And frankly, I don't want to, as I much prefer the car I drive today over the one 20 years ago.
By Colin Wells
Robotic Automation
1300 552 333