TASMANIA'S RESOURCE MINISTER RETIRES AFTER 20 YEARS OF PUBLIC SERVICE
17-02-2016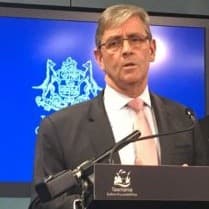 Paul Harris, Tasmania's Resources Minister has announced his retirement, effective immediately.
He said that after 20 years of service, it was time to put his family first, denying that there was pressure for him to make the decision.
"It's time to spend some quality time with my family," he said.
"I approached [Premier] Will Hodgman after considering the decision with my family," he said.
Mr Harris added that he enjoyed his time "carrying the flag" for Tasmania's mining and forestry industries, but is more proud of his achievements outside his portfolio.
"As I look back on public life, I perhaps draw most satisfaction from my contributions to two things in particular - decriminalisation of homosexuality and the handback of land to Tasmania's Aboriginal community," he said.
Mr Hodgman said there would be an announcement about ministerial changes tomorrow.
"I'd like to thank him for his services," Mr Hodgman said adding that announcements on ministerial changes would happen in the following day.