TASMANIAN MADE FAST FERRY IS FIRST OF A NEW GENERATION
24-04-2017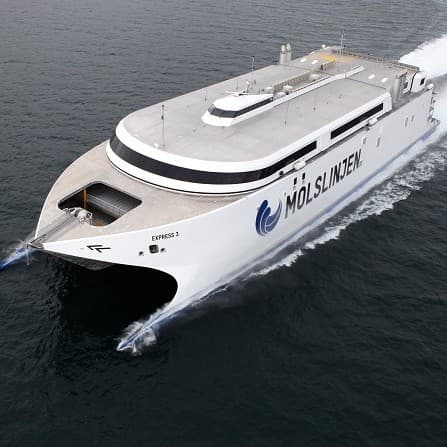 Incat Tasmania has shipped the first in a new series of fast ferries to Danish operator Molslinjen. The Express 3 is currently en route to Denmark via the Panama Canal.
The new vessel is a 109-metre high-speed vehicle-passenger ferry, built entirely at Incat's Tasmanian base. Molslinjen is clearly a fan of Incat vessels, as this is the fourth Hobart-built catamaran in the company's current fleet.
The Express 3 is an evolution from Incat's proven 112-metre catamaran range which first entered commercial service in mid-2007. Importantly, the new design is more than 100 tonnes lighter, answering a design brief for 10% savings in fuel and emissions.
During its recent sea trials (pictured), Express 3 achieved 43 knots with 600 tonnes deadweight onboard. This comfortably exceeded the design brief.
According to Incat's Tim Burnell: "The 109 metre catamaran is Incat's response to increasing demand for quality new-build high-speed craft that will provide reliable year round service. 
"We pioneered this mode of high-speed transport in 1990 and our ferries have since operated over 2.5 million hours in intensive commercial service.  By deconstructing already successful designs and operator experience Incat has produced a fast ferry that truly is of a new generation."
The new ferry will enter commercial service on 1st June 2017.
Incat Tasmania
03 6271 1333  
www.incat.com.au