TASMANIAN-BUILT FERRY BOUND FOR MALTA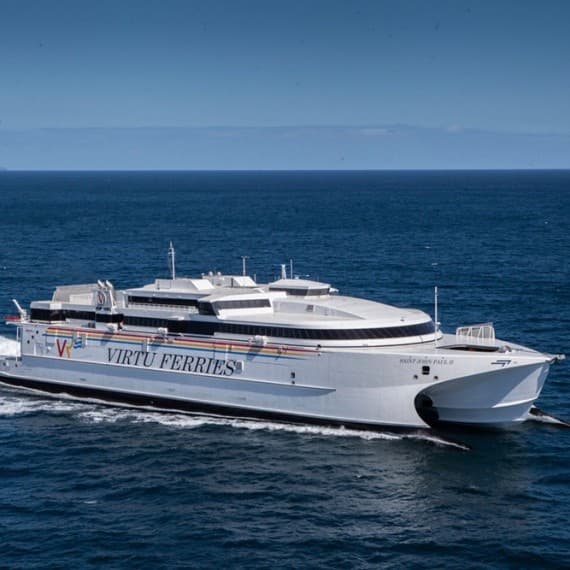 Tasmanian high speed craft builder Incat has delivered its latest large fast ferry, a 110m wave-piercing catamaran and one of the largest and most revolutionary built by the yard, to Virtu Ferries of Malta. The Saint John Paul II left Hobart on 6th February and is expected to arrive in Valletta, via the Indian Ocean, Red Sea and Suez Canal, before the end of the month.
"Virtu Ferries was seeking increased reliability, sea-keeping, passenger comfort, capacity and economy with less operational downtime than vessels in its current fleet," Incat Chairman Robert Clifford says. "They knew exactly what they wanted and, with the benefit of extensive tank testing and studies, we believe we have turned that vision into reality."
Incat CEO Tim Burnell adds, "Using the latest computational fluid dynamics and hydrodynamic free-running model test techniques, the well-proven Incat wave-piercing catamaran hullform has been further developed for Mediterranean winter conditions. The result is a completely new bow arrangement and increased tunnel height, ensuring Saint John Paul II is truly fit for purpose on year-round ferry operations on what is an exposed Mediterranean island route. For Virtu Ferries this new vessel provides a significant increase in capacity over their existing vessel operating on the Malta–Sicily route."
Virtu Ferries owner and Chairman Francis Portelli explains, "As an island nation with a strong and growing economy, it is imperative that Virtu Ferries' year-round lifeline passenger and freight services are reliable. Simply put, we want to provide our passengers and freight operators with the highest levels of service, reliability and comfort yet, at the same time, operate an economical and environmentally sustainable high-speed service."
The Saint John Paul II was completed under DNV GL classification society rules and complies with IMO HSC Code 2000 rules, Malta flag statutory requirements and Italian port state requirements.
It is the largest roll-on/roll-off passenger catamaran built for operation in the Mediterranean Sea, which can experience very strong winds and high waves during the winter months. It has a total of 1134 VIP, business and economy seats on two decks, of which 996 are inside and 138 outside, and a designated truckers' lounge with additional facilities. The vehicle deck is designed to carry 23 heavy commercial trucks or 167 cars.
Incat Tasmania
03 6271 1333
incat.com.au