Tarapath leads the way in low-pressure moulding
31-08-2010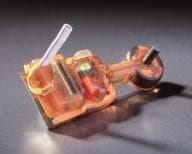 Versatile … low-pressure moulding by Tarapath
Macromelt is a versatile moulding material in the family of polyamide hot melts.
It is applied by a low-pressure moulding process developed in Europe to protect electronics and cable connections in the automotive and white goods industries.
Low-pressure moulding is a one-step process that sits between conventional injection moulding and potting processes. Simple aluminium tools are made for each application. 
Typically cycle times are short (30-90 secs) unlike long curing times associated with epoxy, urethane potting and conformal coatings.
With aluminium tooling, high quality is achieved be it for prototypes, low or high volume production. Oftentimes external cases can be dispensed with providing additional savings.
The process finds many applications in protecting sensitive electronics from moisture, dust and vibration.
In the cable and wire harness industry typical applications include plug overmoulding, cable grommets and joint overmoulding. 
Tarapath is a pioneer in the low-pressure moulding process in Australia and New Zealand. 
It is a one-stop-shop, supplying all requirements for the successful implementation of the process, including part and tool design and manufacture. 
Supply of finished product is also available through Tarapath's contract moulding services, for customers that are not ready to invest in their own equipment.
Tarapath Pty Ltd
Ph: 03 9269 6200