TALENTED YOUNG SKILLAROOS SET FOR WORLDSKILLS COMPETITION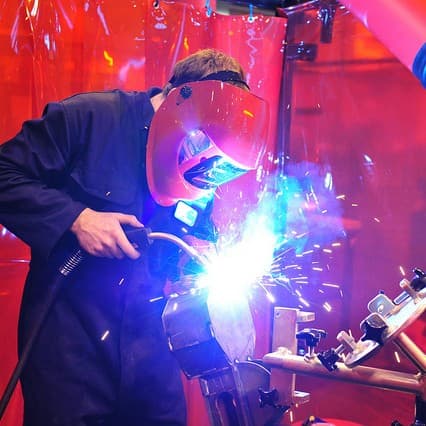 Twenty five talented young tradesmen and women will represent Australia at the 43rd WorldSkills Competition in Brazil from August 11-16 this year.
The 25 Skillaroos will compete in 23 skills categories in the hopes of taking home a gold medal for their country.
The WorldSkills Australia team includes Matt Sawers, Kelvin Marquand and Luke Schaenzel who will represent Australia in the Manufacturing Team Challenge as well as Kallon McVicar (Welding).
The WorldSkills Competition, held every two years, is the biggest vocational education and skills showcase in the world.
This year's competition will see 59 countries represented by 1,176 experts and over 1,200 competitors competing in 50 skill categories.
Held in São Paulo, Brazil, the competition will utilise 213,000sqm of competition space – equivalent to the size of 17 Olympic sized swimming pools.
The Skillaroos team comprises members from the Skills Squad, who were introduced by WorldSkills Australia after their medal-winning performances at the 2014 WorldSkills Australia National Competition
The new concept introduced last year involves the ongoing evaluation of each member.
This is to ensure they meet their training commitments, with the ultimate goal to boost Australia back into the top 10 teams worldwide.
The Skills Squad recently returned triumphant from the inaugural WorldSkills Oceania Competition, competing against New Zealand, Korea, Malaysia, China, India and Canada.
Months of intensive training with dedicated Training Managers paid off when the team received a combined total of 10 gold, 10 silver and 6 bronze medals. This competition was the deciding factor in determining which Skills Squad members would be selected for the 2015 Skillaroos team.
"Each member of the 2015 Skillaroos will not only represent their country, they will also represent their respective industries and collectively, will showcase the high quality of vocational education and training that exists in Australia," said WorldSkills Australia CEO, Mark Callaghan.
The Skillaroos will continue their training regimes over the coming months before WorldSkills Australia farewells the team at a special function to be held at TAFE NSW Ultimo College on August 4.
Meanwhile, apprentices, trainees and students from around the country are going for gold in WorldSkills Australia Regional Competitions.
Entrants have more than 60 trades and skills competitions from which to choose.
Winners will have the chance to take their skills to the world stage at the 2017 WorldSkills competition in Abu Dhabi.
To register and for more information visit: http://www.worldskills.org.au/