Take your thinking to a new level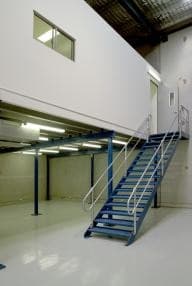 Smart thinking … elevated office space from DWS
Elevated office areas are the most efficient way of achieving more office space without sacrificing limited warehouse space.
Sometimes the obvious solution is not always that obvious. But when it comes to the need for additional office space, or you simply need more floor area, Dynamic Warehouse Supplies has the solution.
Specialising in the Design Supply and Installation of raised floors and structures, the ideal solution is to use your wasted air space and create more space without expanding, extending or moving to bigger premises. 
DWS specializes in creating additional space office areas, lunchrooms, computer rooms or for archive storage rooms.
From simple open storage platforms to large two tier offices, Dynamic Warehouse Supplies can handle the complete project from design and fabrication, through to the complete fit-out including floorcoverings and painting. 
Dynamic offers a complete turnkey project.
Dynamic Warehouse Supplies
Ph: 1300 668 468