TAKE PRIDE IN SOUTH AUSTRALIAN MANUFACTURING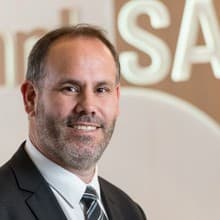 BankSA is committed to supporting the future of manufacturing in South Australia and it's something we're very proud of.
We've supported the industry for a long time, and we're in touch when it comes to manufacturing and wholesale, particularly as the sector transitions from more traditional to advanced manufacturing methods.
Manufacturing has long played a major role in the South Australian economy, and while we've seen a shift away from traditional manufacturing in recent years, manufacturing still comprises a significant share of economic activity accounting for approximately one in 11 jobs in South Australia.
South Australia is unique; it's a place where personal connections absolutely matter. At BankSA we have a team of manufacturing industry banking specialists with extensive knowledge who take the time to build those connections.
They get to know our customers and their businesses, share insights, host a variety of customer events to enable networking between similar businesses and industries, and offer a range of innovative banking products to help businesses grow.
We are a relationship bank that works closely with our customers to establish new enterprises, build on existing success and reach future goals.
BankSA goes above and beyond to ensure the manufacturing industry continues to thrive because we're passionate about being a catalyst for growth in South Australia.
BankSA can support you to grow your business too – I'd love to hear from you.
Todd leads the BankSA Industry Specialisation Team of industry banking specialists. He brings a wealth of experience from more than 30 years in banking to help support South Australian manufacturers.
BankSA
0466 493 740
www.banksa.com.au/manufacturing